Lanka see some support in face of Sevens fire
By Naushad Amit in Kowloon, Hong Kong
View(s):
Once a year, rugby Sevens fans from across the world gather in Hong Kong for a three-day celebration of the sport that is a treat to behold. This was illustrated in the finest possible way on Friday, when the Kowloon Rugby Stadium in Hong Kong, which can hold a capacity crowd of more than 40,000 spectators, came alive with rugby fans clad in different attire cheering raucously for their favourite teams.
Sri Lanka though was one of the few teams at the tournament which lacked sizable crowd support. However, the amateur-looking Lankan Sevens team did have a handful of supporters. This bunch of rugby lovers was led by New Zealander Ian Woolf, a businessman based in Hong Kong for the past eight years.
"Rugby is a huge sport in New Zealand and the neighbouring countries in the Pacific zone. The Hong Kong Sevens is an event we dearly anticipate each year, for many reasons. You get to see the world's best Sevens Rugby teams in a single tournament and it's more like an annual pilgrimage for rugby lovers who gather here to enjoy the sport as well as the party atmosphere," Woolf said.
The tournament was divided into two, with 16 top teams lined up in the Core Tournament and 12 other teams competing in a Qualifying Competition with the winner of it guaranteed a spot in next year's IRB Sevens World Series. However, Sri Lanka, being the third ranked Sevens team in Asia, was drafted into the Core Tournament, making its appearance after five years upon an invitation from the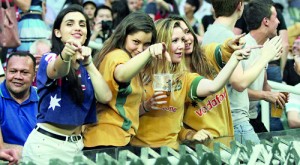 organisers.
In their opening group game Sri Lanka was more or less smashed by the Kenyans 41-0, the biggest winning margin recorded this year so far in the Core Tournament.
"Sri Lanka played well; thereiss nothing to be ashamed of about their performance. They fought very hard but everyone knows Kenya is a better side. These boys need a break and I think people should appreciate their spirit, knowing the love they have for the game, though they are far lower than teams such as New Zealand, Fiji and Samoa," Woolf explained after Sri Lanka's disastrous start.
The game between Kenya and Sri Lanka saw some fans who jeered teams such as the USA, Russia and Tunisia add Sri Lanka to their list. But in general, spectators were happy to see the tiny Indian Ocean island playing alongside the big boys of Sevens Rugby."You can't expect every team to perform like Fiji, New Zealand, South Africa or England. It doesn't mean that they don't belong here. As far as I know Sri Lanka was a team that had good credentials at this competition and they should play more at the top level. They need to be given more exposure, to help them come out of panic situations, such as playing in front of thousands of rugby fans. The Hong Kong Sevens has improved and the tournament has helped the Hong Kong team to become a high-performance team. Sri Lanka needs that kind of exposure, they have the potential of becoming a world force in Sevens Rugby," Woolf boldly stated.