Prageeth goes back to his roots
View(s):

Prageeth Manohansa is known for his assembled figurative works made from rusted scrap metal parts, but his sketches on paper depict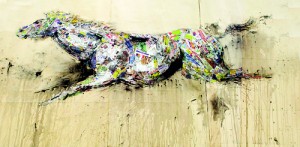 the same fluidity and motion. The monotone nature and the sculptures' changing texture have become Prageeth's identity. The struggle of an artist cum landscape architect who claims to have learnt more from hard labour than art education, his works hide a strong connection to his roots.
In this, Prageeth's latest exhibition, he continues his work with objects, transforming them into visually pleasing works of art, but his choice of medium is not a discarded one, nor is it monotone. The screwdriver assembled into colourful geometric shapes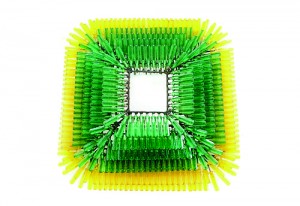 where the working tool takes a different form, and is glorified; this is how the artist rebels against the lack of attention paid to the working class.
In the works on paper Prageeth chooses the horse, a recurring animal in many of his earlier works. Collaged with scraps of newspaper, laid carefully to flow with the
movement of the animal, the horse presents the power as well as the sensitivity of the current climate and the collage depicts the influence that the media has on disguising the imperfections that may lie beneath.
Much like his seniors, Prageeth has chosen beautification and the current social and political climate as themes in the development of this series, while remaining true to his practice of a sustainable art form through the recycling of objects. Chromatic is on until May 15 at the Saskia Fernando Gallery, 41 Horton Place, Colombo 7, open daily from 10 a.m. to 7 p.m. Tel: 0117429010.