Appreciations
View(s):

Fr.  Joe  De  Mel  

A towering Man of God – with a towering heart of gold

A gentleman par excellence – Fr. Joe was proud of the 'fruits of virtue and of knowledge' he gathered from his parents at home and at his alma mater, St. Joseph's College. There he learned, by the example of many, to be the impeccable gentleman we all knew and admired him.
A sportsman par excellence – not only did Fr. Joe open bowling for St. Joseph's College, but captained champion teams as well. I remember cheering him. 'Come on Joe, Come on Joe', when during the war years, our cricket matches were played at the Railway Grounds, Dematagoda. Those were the days when St. Joseph's dominated the Public Schools' Cricket tournament. Besides, Fr. Joe put both height and weight to good use in the field of athletics. Trained by that coach unsurpassed, Anthony Abeysinghe, he was a Public Schools' champion in Putt Shot and the Discus, enabling us to win the Tarbert Cup, over and over again.
A priest par excellence – Fr. Joe was a Man of God, to whom he was 'sada nayagathi' / eternally grateful, having received so much, much more than many, much more than most. Fr. Joe leaned on God. His trust in God, was unbelievable. Indeed, when that noble Sister Bernie, his protégé, was no more and Fr. Joe, now in the ninth decade of his life, handled the affairs of Samata Sarana', I marvelled at the confidence he had that God would provide the unthinkable sum of money that was needed every day.
God leaned on Fr. Joe too. God knew He could lean on this Joe, as He did on the other, St. Joseph, to care for His precious ones in need – the young and the old in the parishes, seminarians, fellow-priests, religious women and men, the privileged anawim of 'Samata Sarana'. It is no wonder, then, that Fr. Joe was reputed to have a patient, listening, ear and a towering, compassionate, heart that drove him to spend himself, like Jesus his Master, for others, especially the poor and the afflicted.
A human person par excellence – Fr. Joe was aware and proud of the fact that he, as well as all other human persons, were of undisputed dignity and worth, being born in the likeness of God. He befriended his own ambivalences – acknowledging his weaknesses and was never arrogant about his talents and accomplishments. And so, it was with deep respect and concern that he regarded others and related to them as equals. Many like me, who sought his friendship and guidance, were helped by him gently to be kind to our own ambivalences and to explore, discover and be proud of our own dignity and worth. Though he towered over others, physically, to think of dominating them was, to him, unthinkable. Fr. Joe was someone of whose loyalty many felt assured. He would make excuses for his friends, come to their defence, and help them whenever in need.
Dear Fr. Joe, we will miss you, indeed we will, but we know that the God you believed in and served so faithfully, will reward you plentifully. And so, as we thank God for the example of your saintly life, we will pray to you, confident that you will, through your powerful intercession, continue to guide and help all of us, whom you loved so dearly, with a passionate heart.
Fr. Egerton Perera.sj
Stephanie Phyllis de Alwis
She was the epitome of love
Although my dear, beautiful grandmother is no longer with us, she lives in our hearts.
She was devoted to her family, and was its very lynchpin and rock. I was always comforted by her incredible, doting presence. Calming, kind and endlessly patient, she made me believe in angels. Although she was a lady of few words, when she spoke, everyone listened. She had her favourite chair, around which everyone loved to gather; such was her magic.
Her devotion to my grandpa taught me how to love. They sat beside each other in true content and silent communion. She has taught us how to love unconditionally, and her legacy will live on through this.
She always made me feel like she was waiting to see us, and that her day was complete once we arrived!
I used to love receiving the little blue airmails in the post, filling me in on her adventures with grandpa, and reaffirming how much she loved and missed us.
She was like a second mother to her grandchildren, so much so we even called her 'mummy'. I loved her evenings on the piano, her brightly coloured clothes, her chocolate fudge, Christmases at her place, her lovely soft hands, her beautiful smile, and her familiar, nostalgic smell of baby powder and eau de cologne. We used to spend endless hours playing games while she contentedly watched over us, from her chair. She was exceptional at baking treats and feeding us until we could pass out! She really knew how to make a house a home.
Mummy was the epitome of love and support, of tenacity and beauty. She was a true listener, and never judged. All she ever wanted to know was that we were happy. Her eyes lit up when we walked into the room, and however ill or tired she was, she would smile her beautiful, warm smile. I will miss it so much — the smile that made us feel like we were the only people in the world.
Samantha de Alwis
Rita Perera
We will strive to fulfil the dreams you had for us
Proverbs 31:28: " Her children arise and call her blessed; her husband also, and he praises her."
Devoted wife, loving mother, caring sister, inspiring grandmother, loyal friend and above all a wonderful human being. These are the things that come to mind when I think about Rita Perera, my Achchi.
Born on February 22, 1930 being the eldest among five other siblings, Achchi was not only a sister but also a mother figure to them all. Achchi and Seeya were joined in holy matrimony on September 25, 1952.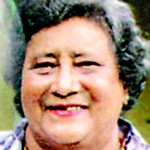 In a world where marriage is taken lightly and divorce rates are on the rise, Achchi was a shining example to all women on the sanctity of marriage. She endured 60 years of marriage, a milestone which many dream of, but only few could achieve. Achchi was always duty conscious. Even in her old age and time of illness she never forgot to carry out her duties as a mother and grandmother. She would always be the first to wish us all for our birthdays, as she made it a point to call early in the morning.
Achchi was a devout Catholic. She was close to Mother Mary and always held the Rosary close to her. Her God fearing nature and unshakable faih were good examples to us all.
Another beautiful quality of Achchi was her humorous nature. Old age could not slow her down or dim her funny and cheerful self. Even when she was in hospital, she was still able to wear a beautiful smile amidst the worried faces that surrounded her. Her smiles and laughter illuminated the house and kept all around her cheerful.
Many would agree when I say that her greatest quality was her generosity. Matthew 6:3 says, "Don't let your left hand know what your right hand is doing." Not even her husband knew the extent to which she helped others in need. It was once she passed on and through the testimonies of several people that we came to know the extent of her generosity.
All in all Achchi lived a virtuous life with great integrity. Abraham Lincoln once said, "In the end it's not the years in your life that count but the life in those years." You may no longer be with us Achchi, but the exemplary life you led and the lessons you taught us will always remain in our hearts. We can only promise you that we will do our best to fulfil the dreams you had for us.
Sahan Perera
Tudor Dharmadasa
We have lost a warm hearted good man
A familiar figure in the legal landscape of Hulftsdorp for over four decades passed away recently losing the battle against ill health.
Tudor entered Peradeniya University in the late '50s. He gained admission from Lorenz College, Kotahena, a pioneer to pursue University studies from that longstanding institution. While in the University he was associated in spearheading rightist politics – a courageous invasion of freehold territory occupied exclusively by the Trotskyites… and the communists.
He immersed himself in UNP politics after passing out and was fully involved in the first election campaigns of A.C.S. Hameed and D.B. Wijetunge.
From politics and an involvement in auditing, he turned to law and passed out as an advocate. He apprenticed under one of the great leaders of the Bar H.W. Jayawardene Q.C. A high level of competence in both English and Sinhala served him well at the Bar. However, his long legal career was dogged by numerous illnesses and it was with almost continuous medical attention that in later years he could persist in his practice.
When the politicians he so assiduously promoted assumed high political positions from 1977, Tudor was conspicuously ignored in the dispensation of patronage. When D.B. Wijetunge became Prime Minister, I remember telling Tudor that his hour had finally arrived. He chided me for my lack of understanding of the politicians' psyche. The caravan carried on with Tudor left on the wayside.
In his last days he was confined to a home. Tudor perhaps provided a case study which shows the need for a mechanism that could offer some succour to impecunious practitioners, a matter which the Bar Council may give some thought to. With Tudor's passing away his colleagues from his university days and in the legal fraternity, not to mention the political arena, have lost a faithful and warmhearted friend, a good man.
H.P. Wijewardena
Kshirabdhi Aruliah (nee Nagendra)
For a short while you were an angel who walked our earth
March 25 marked the first death anniversary of Kshirabdhi Aruliah (nee Nagendra). To everyone who knew and loved her, she was that girl who never forgot a birthday or a Christmas wish. Even with a crippling illness in the cold climate of the UK, she continued to touch the lives of her young students and inspire them. More than mere classroom lessons she showed them the true values of kindness, honesty, believing in going after your dreams and humility.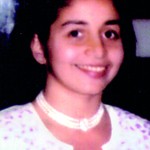 A perfect example of a girl who was so unaffected by who she was, it was her humility that struck those around her. The daughter of retired senior director of Carsons Cumberbatch PLC Sega Nagendra and his wife Sarla Nagendra, she was the light of her parents' lives. An old girl of Ladies' College and then athletics captain of C.I.S, she moved to the UK after marrying Jekhan Aruliah and settled down there. She was overjoyed when her son Karnan was born and I personally believe that even in pain she kept on living just for her little family and her amazing love for her son. Although she never got a chance to see him grow into the man he will be some day, her guiding light and influence would always stay with him and Jekhan, her husband. They were her pride and joy. She recorded every one of her son's achievements and taught him the joys in both success and failure.
Kshirabdhi was my cousin, although much older than me, I still remember how much she doted on Karnan and her family. At every birthday party I attended as a little girl her love for him was written all over her face. In an era where women are expected to do it all and have super powers, I think she truly did it all and more. A strong confident woman, a darling daughter to her parents, I remember hearing that all the years she was in the UK ,her father would talk to her every day over the phone; she was an exceptional wife, a wonderful caring mother and even went to the extent of treating other people's kids as her own.
She died too soon and far too young. A beautiful person not just on the outside but on the inside, she would go out of her way to help anyone in need and I believe she qualified as a special needs teacher in UK just for this reason. She volunteered to teach children with learning disabilities completely without pay as her gift to the world although she led a very busy life of her own as a wife and mother. Even in the face of unimaginable agony, medications and sickness she remained a bright sparkling light, optimistic, courageous and never once cursed God, never did she grumble in spite of knowing that she would someday succumb to her illness.
I think her family who loved her dearly would mourn her death for the rest of their lives but also celebrate her life and remember that for a short time she was an angel who walked on earth in human form.
Just like that song by Nsync "God must have spent a little more time on you," Kshirabdhi I truly believe God did spend a little more time on you. Thank you for your life and the lives you so touched, the good you did, the love you showed and the lives you changed.
I guess God knew you didn't deserve that pain, so He gave you rest and I know that you are finally at peace, devoid of all hurt. Your love will forever remain with those you loved. Although you're gone you will never ever be forgotten.
Rupine Namasivayam