Sri Lanka fast 'developing' into TB hub of Asia
By Chathuri Dissanayake
Indian and Chinese labour migrants one of the main reasons, warns expert
View(s):
Inbound migrant populations from high TB prevalent countries have increased the risk of the spread of Tuberculosis (TB) within local communities in the country, in addition to the indigenous TB patients.
Sri Lanka is fast becoming a labour-receiving country, especially from India and China, due to the country's ongoing major development projects. Consequently, risk of the spread of the disease through migration has also increased.
India with 21 per cent of the world's TB patients ranks first, while China has close to 14 per cent of its population infected with the disease. Together, the two countries account for over 40 per cent of the global TB cases.
Moreover, monitoring the inbound migrant population for various purposes is difficult, says Dr. Sudath Samaraweera, Deputy Director, National Programme for Tuberculosis Control and Chest Disease (NPTCCD).
"Most inbound labour migrants belong to high risk groups in the country of origin as well. In certain instances we have even seen prisoners, an identified high vulnerable group world over, coming into the country for special development projects," he said.
Sri Lanka currently does not have a medical assessment system for resident visa applicants. As testing for TB is only on a voluntary basis, the authorities are unable to detect new cases among these migrant groups.
The only cases recorded among migrants have been already diagnosed cases, including Multi-drug Resistant TB cases which is difficult to treat.
"As long as they don't move freely among local communities, it is manageable," says Dr Samaraweera.
"But when they interact with local communities, the risk is high as the disease is airborne"
Each infected person has a probability of infecting 10 more people who come into contact with him/her.
The total detected cases of TB in Sri Lanka in 2013, is 9,646. The NPTCCD estimates that another 4,000 more cases go undetected annually, which further heightens the spread of the disease.
"The estimated detection rate for Sri Lanka, under World Health Organisation (WHO) standards, should be 66 cases per 100,000 population. However, at present, the detection rate is at 46 per 100,000 persons," says Dr Samaraweera."This is why we estimate that there are at least 4,000 more undetected patients in the country."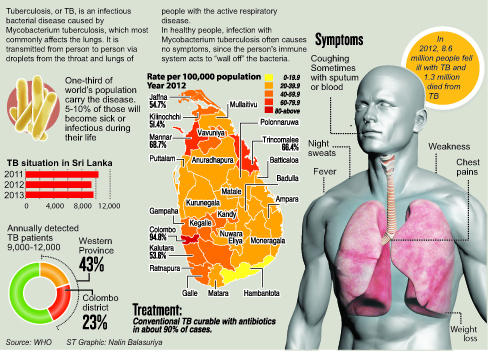 Most often this is due to low awareness and lack of attention paid to the disease, while low income, lack of proper nutrition and low living conditions compound the issue.
TB prevalence is high among returning refugees who were living in refugee camps in India. Dr Samaraweera points out that TB detection rate among such groups being resettled in mostly north and east, is at 936 per 100,000 population. An alarmingly high rate compared with the national rate. As facilities in the North and East are still at a developing stage, controlling the disease is difficult.
Dire living conditions, overcrowding and limited nutrients in the diet have caused a high prevalence of TB among prisoners in the country as well.
"Based on studies conducted in prisons, the prevalence of TB within prisons in Sri Lanka was 1,688 per 100,000 inmates," Dr. Samaraweera said.
Apart from these contributory factors, the authorities are also struggling to retain trained staff as well.
WHO annual report for 2013 on TB Control states that, "Maintaining adequate human resources, against a high turnover of trained staff, has become a challenge to Sri Lanka's authorities." Confirming the situation, Dr. Samaraweera said that even though they have hired staff on contract basis, a shortage still exists, especially for microscopists.
Added to this, TB has become a forgotten disease in Health investigations.
"Most General Practitioners (GP) both in the Private and Public Sectors do not test for TB, even though all the symptoms are present in the patients," says Dr Samaraweera.
Hence, many of the cases go undetected till the very late stages.
Western Province accounts for an alarming 43 per cent of TB cases in the country, while Colombo and Gampaha districts have recorded the highest number of cases. The Colombo Municipality area hosts 10 per cent of all TB cases in the country, with Colombo North and Central being high density areas.
According to the Colombo Municipal Council's Chief Medical Officer, Dr Pradeep Kariyawasam, the disease is concentrated in slum areas due to the low level of living conditions prevalent within these communities.
"Family size within this community is 5.6 and population density is about five to six people for each 300 square metres. This, coupled with poverty, drug and alcohol abuse, increases the risk of TB within these communities," he said.
Difficulty in accessing Healthcare facilities has contributed to the high prevalence of the disease among the estate community as well, explained Dr Samaraweera.
"To access a hospital they have to travel far. They will also have to give up a days work, hence loss of income. So many ignore the symptoms," he said.
The NPTCCD is currently carrying out awareness campaigns for GPs, both in the private and State sectors in order to increase detection. However, low attendance rates at related workshops and seminars has made campaign targets difficult to achieve.
"Most of them don't attend as they are busy with their consultation and private practices," Dr. Samaraweera said.
The Health Ministry is also planning on introducing new regulations for issuance of resident visas. However, authorities have no mechanism to detect TB cases among migrant the population residing in Sri Lanka. Experts have recommended implementation of mobile clinics in locations where the density of migrant labour is high, and at development project sites which employ migrant labour. However, the NPTCCD has yet to devise such programmes.