Fishermen cry foul over Govt. sellout by unconditional release of Indian poachers
By Leon Berenger
View(s):
Local fishermen reacted with anger and concern at the Government's decision to release all the Indian fishermen along with their vessels. They fear that the poaching crisis in the North will worsen with this move, as more and more foreign vessels will feel encouraged to move into the area.The Government on Friday released all 98 fishermen along with 28 fishing crafts arrested over the past one week for illicit fishing in the country's territorial waters, as an apparent goodwill gesture, after India abstained from voting at the United Nations Human Rights Council (UNHRC) in Geneva on Friday.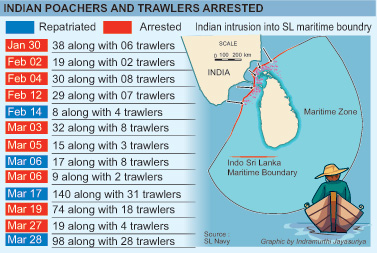 The Indian fishermen were arrested in separate groups on March 20 and 27, off the seas of Mannar, Thalaimannar and Delft Island."This is a worrying situation and we hope to take the matter up with Fisheries Minister Dr. Rajitha Senaratne at the very earliest," Jaffna District Rural Fisheries Organisation Federation President, N. Ponnambalam told the Sunday Times.
"If the Government has decided to go soft on the Indian poachers for whatever political or diplomatic reasons, then one could expect thousands of foreign poachers on our side of the sea, and this means disaster for the local fishermen," said Mannar District Fisheries Federation President, A.J. Soysa.Puttalam District Fisheries Federation Secretary, Sugath Emmanuael said the only protection they had was from the Navy. If this is taken away, the local fishermen are at great risk and could even be attacked by the Indian fishermen who operate in their thousands.
Kilinochchi District Fisheries Federation President, Joseph Francis said he felt let down by the President's decision, but added that, one will have to abide with it, even if it damages the local fishng industry. Anthony Muttu, Advisor to the Indo-Lanka Fisherman's Association that coordinates talks between fishermen and officials from both countries, said that Friday's decision to release the 98 Indian fishermen along with their boats, was a goodwill gesture on the part of President Mahinda Rajapaksa, and should be treated accordingly, not abused.
"I have conveyed this position to M. Devadas, my Indian counterpart in Chennai, and he has accordingly advised the local fish workers that they face arrest should they cross the International Maritime Boundary Line (IMBL)," said Mr Muttu who participated in the January 27 Chennai fisheries talks between representatives from both countries.
He also said that the Indians should abide with the agreements reached at the Chennai talks, in a bid to maintain an environment of goodwill on both sides.
"There is no change in our thinking on this issue, and the Navy will be required to perform their duties in dealing with trespassers," Fisheries Director General N.D. Hettiaarachchi told the Sunday Times.