'Noah': A battle against an apocalyptic deluge
View(s):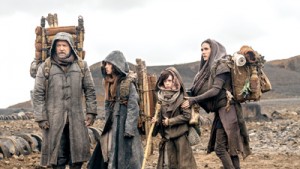 Inspired by the Biblical story 'Noah' a story of a man who was chosen by God to undertake a momentous mission of rescue before an apocalyptic flood, which destroys the world is now being screened at Platinum cinema, Majestic Cineplex, Colombo. 
Directed by Darren Aronofsky, 'Noah' played by Russell Crowe shows a man suffering visions of an apocalyptic deluge taking measures to protect his family from a impending flood. Other roles are played by Jennifer Connelly, Ray Winstone, Anthony Hopkins, Emma Watson, Logan Lerman, Douglas Booth, Mark Margolis and Kevin Durand.
The visionary director Aronofsky came up with the story of Noah in April 2007, informing the media that the figure of Noah had fascinated him since he was thirteen years old. Aronofsky had explained that he saw Noah as "a dark, complicated character" who experiences "real survivor's guilt" after the flood. Aronofsky was working on early drafts of the script for Noah around the time his first attempt to make The Fountain fell through when actor Brad Pitt left the project.