A simple structure for profound ideas
View(s):

In 'Hithuwakkara Akuru' (Stubborn Letters), Amila Chinthaka Gamage showcases his Haiku poetry skills. To express a profound idea, a thought or an argument, in a simple and a coherent manner takes real skill.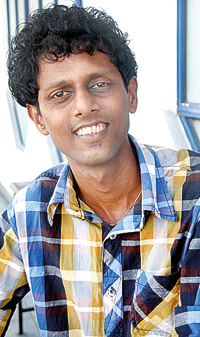 To express such an idea poetically takes even greater skill. Amila Gamage showcases this skill remarkably well in his maiden attempt at poetry writing.  In 'Hithuwakkara Akuru' (Stubborn Letters), Amila presents to readers a collection of Haiku poems in Sinhala touching an array of different subjects.  He is able to tackle serious issues such as gender debate and religion without overpowering complexities, yet presents his argument clearly to the reader.
The subject matter in his poems range from simple things, such as a short bus ride, a young monk playing in the temple garden, to more complex issues such as marriage. But he skillfully presents his thoughts, in three or four short lines, initiating a train of thought in the readers' mind.
A refreshing read, he balances his presentation with just the right amount of light hearted lines which presents a humourous out look on life.
"The poems represent how I see life and what mattered to me," says Amila explaining how the poems came into being. Having studied Sinhala Literature for his advanced level, he says it was his Literature master who first introduced him to the Haiku style of writing.
According to him he prefers the style over the more traditional styles mainly due to its simple structure and believes that Sri Lankan poems do not do justice to the style. He plans to build on this work in the future he says and hopefully publish more, which may also include fiction. The book is worthwhile to read. The poet engages the reader till the last page. The reader may not agree with his argument but is able to see where the thoughts originate, and is left flipping the page to read the next haiku he presents.
It doesn't take long to finish the anthology, but his thoughts will remain in your head long after you have put the book away.