Sri Lanka marks 48th year at ITB Berlin
View(s):

Sri Lanka has been again represented prominently at the ITB Berlin, the world's leading travel trade show held annually in the German capital. More than 174,000 visitors, among them 114,000 trade visitors, and 11,000 represented companies including tour operators, booking agencies, destinations, airlines, hotels and car rental companies from 189 countries participated in the ITB. The ITB Berlin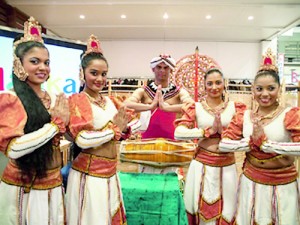 enjoys worldwide media recognition and offers comprehensive support for all marketing questions of exhibitors. In addition, the world's largest tourism convention ITB Berlin Convention provides unique opportunities to benefit from the leading think tanks of the global tourism industry.
Member of the German Parliament for the ruling Party CDU, Member and Spokesperson of the Committee of Economic Cooperation and Development, Member of the Committee of Foreign Affairs, Member of the Parliamentary Friendship Groups for ASEAN, Greece, South-Asia and Maghreb, Jürgen Klimke, declared open the Sri Lanka Pavilion at the ITB 2014 along with the Ambassador for Sri Lanka, Sarath Kongahage. Dr. D.S. Jayaweera, Director General of the Sri Lanka Tourism Development Authority, and many other senior members of the travel- and tourism-related organisations of Sri Lanka, members of 60 travel companies and hotels representing Sri Lanka at the ITB 2014 as well as the staff of the Embassy of Sri Lanka in Berlin were present at the opening ceremony.
In his address, Jürgen Klimke recalled his pleasant memories in relation with Sri Lanka. He also told the audience that he is a friend of Sri Lanka and has made several visits to Sri Lanka including the Northern Province. He expressed the hope that Germany now in the second place with regards to tourist arrivals from Europe to Sri Lanka, would very soon gain first place.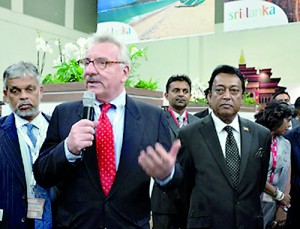 Ambassador Kongahage welcomed the exhibitors of Sri Lanka for the ITB 2014 and stated that Sri Lanka had been participating in the ITB exhibition for 48 consecutive years. It therefore had all the qualifications to obtain the ITB partner country status in the future. "I am in discussion with the ITB organisers to become the partner country, which will provide tremendous tourist promotion for Sri Lanka in Europe," the ambassador added.
The Director General of Sri Lanka Tourism Development Authority, Dr. D.S. Jayaweera, thanked the travel agents, tour operators and hoteliers for their continued participation in the world`s biggest travel and tourism trade show, which provides a meeting point to promote the tourism industry of Sri Lanka in Europe.
At a press conference on the tourism industry in Sri Lanka at which the Ambassador was present, the Director General of the Sri Lanka Tourism Development Authority delivered a comprehensive presentation on the potential of tourism industry in Sri Lanka.Chairpersons of the tourism-related organisations of Sri Lanka were present to answer questions from the journalists. Parallel to the ITB 2014, a taxi advertising campaign was launched on March 7 by the Ambassador and the Director General.