They deserved to be honoured
Kala Korner by Dee Cee
View(s):
It was a pleasant surprise to find two stamps commemorating two stalwarts who had contributed immensely to the local cinema, in the stamp pack I just received from the Philatelic Bureau. One features maestro Premasiri Khemadasa and the other script-writer/director Tissa Abeysekera. The sad part, however, is that I have yet to see these stamps, released last November, being given out from counters at post offices. And they are of Rs. 5 denomination – the present letter rate. Neither have I got a single letter using one of these stamps.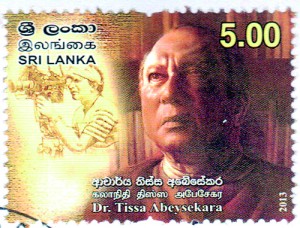 The Stamp Bulletins released with the stamps state that the quantity printed was 500,000 each. Where have all those gone, I wonder. Surely the entire lot had not been bought up by stamp collectors!
Anyway, the fact that the Postal Department has honoured two artistes who deserved to be recognised in this fashion is praiseworthy.
The Master (as Khemadasa was popularly known to everyone) left behind several landmarks in Sinhala music in what the Stamp Bulletin refers to as "an unusual and unprecedented journey", which he started by playing the flute and went on to create complex musical creations, conducting orchestras and producing operas. He covered many an era from the gramophone to radio, cinema, drama and television. The Bulletin adds that he was sensitive to political issues always standing against injustice and acting for the benefit of the public. It quotes how when Prime Minister Sirimavo Bandaranaike's civic rights were taken away he was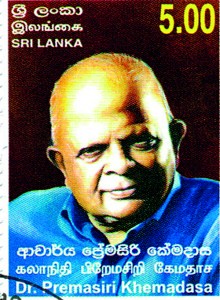 in the forefront among those who opposed the move. When violence held sway in society, Khemadasa made use of his musical creations to oppose it, it adds.
Tissa Abeysekera though he had a lifespan of only 69 years, rendered an invaluable service to Sinhala cinema as dialogue and screenplay writer for Lester James Peries films. He wrote screenplays for many more and directed Martin Wickremasinghe's 'Viragaya', which incidentally bagged as many as ten awards that year. He was a unique personality and apart from being a screenplay writer and film director, was a writer and critic, poet, lyricist, author, actor and administrator. He was Chairman of the National Film Corporation, Director – Sri Lanka Television Training Institute, Board member of the Sri Lanka Rupavahini Corporation and visiting lecturer in several universities. His creation, 'Pitagamkarayo' stands miles ahead of the teledramas produced and shown over local channels.
Both artistes were conferred a D.Litt by universities.
Not many artistes have been honoured with stamps in Sri Lanka. Dr. Lester James Peries and Pandit W.D. Amaradeva are the only living artistes to be so honoured. The creator of the National Anthem Ananda Samarakoon and distinguished painter Manjusri were among the earliest to be commemorated with stamps at the time when each year on May 22 (Republic Day) several personalities were recognised in the series 'National Heroes'. Stamps featuring musician Sunil Shantha, and Dr. Ediriweera Sarachchandra were issued under the 'Distinguished Personalities' category. Stamps have also been issued to commemorate writers Piyadasa Sirisena and W.A. de Silva and lyricist Fr. Marcelline Jayakody.