Edgy vibes from Moratuwa Uni's young designers
By Tharooshie Mahahewage
View(s):
Once a year the Department of Textile and Clothing Technology of the University of Moratuwa showcases its brightest and best, and this
year 18 students out of a graduating batch of 39 showed the quality of their work on the ramp at the Galadari Hotel.
First on the ramp was Thakshila Weliange's collection called "Amulet" – resort wear in white and red, embroidered to give a Sri Lankan touch. Rasini Kuruppu's collection "Dualism" was casual wear of handwoven textiles- comfortable outfits in calming blues and greens.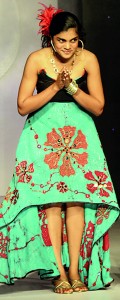 "Restricted Release" was the name of the collection by Manoj Akalanka, inspired by Japanese bondage and featuring what he calls 'men's extreme pleasure wear'. All in red, black and white leather the designs highlighted a sense of restricted masculinity. Mihiri Bakmeewewa's "Bending Binary" was based on an androgynous lifestyle, creations all in monochrome with distinctive square patterns.
Diyuni Premachandra's collection "Distinctly Sri Lankan" featured traditional colours and prints inspired by the Kandyan era. Sudam Dalpathado focused her collection on "Inner peace", and highlighted her creations with lots of pink and flowers. Faalil Mohamed created a daring and edgy look inspired by human rights violations aptly titled men's 'protest wear', hard and well constructed designs of leather and denim.
Using the little short dress as her base Nusky Aduham decorated it with chaotic 3D weaving patterns for her collection named "Rowdy" which depicted the theme of order from disorder. Dilan Wijenayake used an unusual mix of soothing greys ad purple, depicting a state of mind between positivity and negativity which she called "Psychedelic Perception". Her finale was a short tutu dress of bright red. The collection contained ladies prom wear.
"Veiled Dignity" was Panchali Wijetunge's collection of glimmering handlooms inspired by the traditional Daha Ata Sanniya mask. Her designs, comfortable and elegant were essentially evening wear. "Remain alive" Binduka Chapa's men's streetwear collection meant to emit a sense of being alive and conscious of natural disasters was in bright neon colours of light blue and lime green.
The only sportswear segment of the night 'Iridescence' was by Thilini Nandasiri inspired by the hues of the gemstones. Anusari Kodithuwakku's stylish collection "Awaken Youth" in a sea of flowing green was inspired by comic books – 'cinematic performance wear'.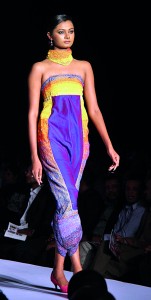 "Anomaly" was a collection of casual wear for ladies by Mihiri Jayaweera. Using patterns of dark blue and white, she achieved a youthful vibe with denim work and intricate hand stitching patterns on the outfits.
One of the most interesting collections of the night was Sachini Koorambegedara's "Pretty Killer", a collection made out of recycled polythene bags, which screamed innovation. She had also used knitted textiles.
An inspiring collection on the subject of women's slavery was "Yielding Venus" by Thushani Marasinghe with semi formal wear made of handloom with accompanying shawls. Nethmini Senananda did a fusion of colour to bring out Sri Lankan culture with two saree creations. The silky batik in blues and purples was truly beautiful, in its glimmering rippling form.
The brightest and perhaps the most cheerful of the whole show was Chamindhi Abeywarna's "Wanderlust"- An edgy collection inspired by an urban nomad, a girl who wanted to travel light. Vibrantly bright colours showcased well cut designs that were not only young and fun but were also very wearable.
The young designers were judged by a panel comprising Rebecca Ward, Peter Katz and Priyantha Fernando. The Serendib Inspiration award went to Diyuni Premachandra, and the Commercially Creative Designer award went to Mihiri Bakmeewewa. The Menswear Designer award went to Manoj Akalanka and the Creative Knit wear Designer award went to Sachini Koorambegedara. The most Innovative Designer of the Year was won by Thilini Nandasiri and the most Innovative Textile Fabric Designer award went to Dilan Wijeynayake. Chamindhi Abeywarna won the award for the Most Outstanding Designer Brand, wrapping up a successful night that perhaps may be a sign of things to come for the young designers.