Appreciations
Dr. Walter R. Gooneratne
View(s):
Dr. Walter R. Gooneratne
A man of the wilds and the much loved doctor of Maha Oya
Dr. Walter R. Gooneratne, son of the well known Headmaster of S. Thomas' College, Mt. Lavinia, O. P. Gooneratne, died on March 7, at the grand age of 90 years.
He passed out as a doctor in 1948 and his first appointment was at Maha Oya. It was a small hospital where a few villagers, possibly including one or two Veddahs, called for treatment each day. The post had been vacant for five or six years as no doctor wanted to go there, but Walter enjoyed every day of his stay.
About two or three miles from the hospital were the famous hot water wells of Maha Oya. He built a small shack on a kumbuk tree overlooking the wells, and in the evenings he used to regularly go up to it and keep watch for the elephants that used to come there in the evenings to drink water. Walter used to relate the story of a friend who came to see him in Maha Oya, who later became Professor of Surgery in Colombo. He took this friend to the hot water wells to spend the evening. When the friend saw the shack built high on the tree, he wanted to go back, but Walter pacified him and managed to take him up. When the elephants came to drink water that night, the friend nearly fell off the tree in fear, much to the amusement of Walter.
Walter was quite happy at Maha Oya, and in spite of his plea to keep him longer there, he was transferred to other locations until he got a place in the Tuberculosis Section. He was sent to the UK on study leave and on his return he continued to serve in his former capacity until 1956. That year the Government allowed retirement to certain public service officers with a pension for life. As a result, Walter took the opportunity and retired prematurely.
Thereafter he became a successful General Practitioner, working in a large two storeyed bungalow at Thimbirigasyaya Road, Colombo. He saw to the health of the nation's highest, including politicians, administrators, as well as those who could not afford payment. He treated his patients very well and with time his treatment extended to their children, grandchildren and great grandchildren as well. He used practical methods to treat certain problems and had the touch of a healing hand. Patients had the notion that their ailments vanished just being seen by him. He treated his patients so well, that after his retirement they used to call at his home for treatment, which was given free of charge.
Walter became President of the College of General Practitioners of Sri Lanka for three consecutive years. In addition, he held the post of Vice President of the Sri Lanka Medical Association. He was appointed as a Director of the North Colombo Medical College (NCMC), with others being Drs. G M Heen Nilame, Dennis Aloysius and Sathis Jayasinghe. They ran the NCMC through its ups and downs, and its graduates are today in very responsible positions locally and overseas. When the NCMC was shut down, a Medical School in Granada accepted admittance of some students, provided they were approved by Walter, who was known to be strongly independent in his assessments.
Outside general practice, he had many interests. Throughout his working life, Walter was interested in wildlife. For over 20 years since 1993, he used to join us on camping and wildlife trips to Yala, Udawalawe, Wilpattu, Wasgomuwa and Kumana. We used to camp out for about four nights each time, once or twice a year. He never failed to entertain us with his stories, that were full of humour, most of which he documented in his book "Golden memories and silver tears".
I might relate an incident that took place while camping at Kosgasmankada. We were trying to cross the Manik Ganga and enter Yala Block 2. Walter drove his double cab across the water without any difficulty but, our jeep was heavy and its wheels sank in the river sand. The more we tried to get it out, it sank further. We were wondering what to do, when the idea of using the winch was considered. It was a mechanical winch, and was fixed to the front buffer of the vehicle. But the wire of the winch was too short to fix to a tree in the opposite bank. In this situation, Walter suggested we hook the wire to the back of his vehicle, while he held the vehicle tightly without allowing it to be pulled back on winching. The jeep gradually came out and we all went to Block 2.
In addition to camping, he always accompanied us when we went to stay in bungalows at Yala, Dambakotte, Udawalawe and Wilpattu. He owned expensive cameras, together with powerful telephoto lenses, video cameras and a host of other equipment. He was very technical minded and was up to date at all times. As regards electronic equipment, you name it and he had it. He was compiling a selection of his wildlife footage into a home video before his death.
He retired from general practice about 5 years ago, but still joined us when we went on trips to places such as Habarana, Giritale, Nilaweli, Jaffna, Somawathiya, Arugam Bay and Tantirimalai. A couple of years ago, he visited his old hospital at Maha Oya with his nephew. He was most surprised at the development that had taken place. The hospital, which was manned by him alone, now had about 20 doctors. The hot water wells were now rebuilt with concrete rings and visited by many people as a tourist attraction. During the past few years though, he was unable to travel long distances due to his ill health. His demise is a great loss to all of us family and friends. May he rest in peace.
Dr. C G Uragoda
Nipun Rajantha Jayamaha
God chose to take only the best
God saw a 'Golden heart'
That was too good for us.
So He put His arm around you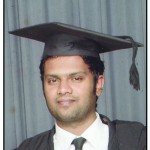 And He whispered, "Come to me."
It's three years since you were taken away
But the shock and sorrow never fade away.
Although we loved you dearly,
We could not make you stay.
A golden heart stopped beating,
Those cheerful eyes now at rest.
God broke our hearts to prove to us,
He chose to only take the best.
It's lonesome here without you
We miss you more each day.
Life just hasn't been the same,
Since you've gone away.
When the days are sad and lonely
And everything seems to go wrong,
We seem to hear you whisper
"Cheer Up and Carry On!"
Every time we see your pictures,
It's as if you're saying,
"Don't weep; I'm in God's hands,
I'll be eagerly waiting till
We meet again someday….!
Your ever loving Aunt Rasadari
MURIEL DHARMARATNE
She was mother, father, sister and much more to all of us
This tribute is to a wonderful sister who was both mother and father to me. Words cannot express how indebted I am to her. She was a person out of this world who lived to help others.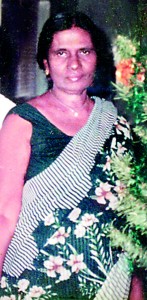 I was the youngest of eight brothers and sisters, and my parents were quite old when I was quite young. My sister took charge of me when I was still in school, and moulded my life. She was also my teacher at School and taught us English. It used to be quite hilarious when she asked me a question. All the girls were so amused. We had good fun.
She advised me not to go into higher education, as, my other sister and she were highly educated, and not married. I took her advice.
She found me a wonderful husband, and gave me in marriage. She did everything for my wedding. When our children were born, she was a grand-mother to them, spoiling them and bringing expensive gifts. She loved them dearly. She taught in England for ten years, and we benefitted a lot from that.
When she came back she built her own home, and lived there with my other sister who died comparatively young. As we were very close, she would visit us very often. One by one all my brothers and sisters passed away. Then it was only both of us, and we got still closer.
When we moved to our present home, she spent a lot of time with us, as she loved this place. At that time she was living in her own home. She taught English voluntarily at the Y.W.C.A. for several years. Her one passion was attending prayer meetings which were conducted by a dear friend who used to send her car for my sister.
In her prime she had several friends and lots of admirers. She travelled the whole world and lived life to the fullest. She drove her own car and was very independent.
She did not have a single ailment. Once, when my daughter wanted to take her pressure she said, "Let sleeping dogs lie".
Unfortunately, she had a minor fall in her home which brought about her end. We took her to the General Hospital, Colombo where every possible medication was administered, including surgery. The Doctors and the Nursing Staff gave of their utmost attention, for which I am ever so grateful. It was the saddest time in my life to see her in that condition in hospital.
She had a fitting farewell. All her friends and relatives and neighbours were there. I lost a wonderful sister. My loss is Heaven's gain. Farewell darling Anna, as everybody called her.
A loving sister
Sita Ranatunga
Her lessons on life will live on among us
Despite the three months since her passing away, the lessons that my grandmother taught me and the values she inculcated in me have become so dearly ingrained in my life that her influence seems not to have vanished at all.
Known as Achcha to her grandchildren, she will always be remembered as an exceedingly charitable person. She not only took up every opportunity to improve the lives of those less fortunate, but also insisted upon getting her friends and family involved in as many of these projects as possible. She would always get her grandchildren to contribute something, even if it was just five rupees. While in her later years she could contribute only as a fundraiser, she inculcated in her grandchildren the importance of doing whatever one could to help other people. I have no doubt that she is the reason that now, even at 20 years of age, I still continue to give up hours of my time to volunteering for charities. Achcha truly continues to spread her love upon the living, even to people she'd never met while she was alive.
But Achcha was not one for eternal seriousness; she enjoyed fun, games and spending time in good company, just as much as her devotion to Buddhism and charity. Even in her late 70's she would still pick up the cricket bat to play a four over the fence or be game for one more round of 304 at any hour of the night. Another one of the things that will always be remembered as Achcha's trademark was hopper making. When we moved to Australia, she even insisted on passing on the art to her daughters and sons-in-law (and with considerably less success, to her grandchildren!)Thanks to her, we continue to enjoy hoppers and even have the opportunity of regularly sharing the joy with many family friends.
So it seems to me that what truly lives on of our dearly departed are not merely memories, but in fact, the examples they set for us and the things that they taught us. Achcha's influence carries on and continues to enrich the lives of the living.
Thisuri Jayawardena