'CNNGo' Explores Sri Lanka
View(s):

This month on CNN, CNNGo features Sri Lanka as one of the best tourist destinations in Asia. In the capital city of Colombo, Chef Dharshan Munidasa gives CNNGo a taste of the world renowned Sri Lankan seafood. It starts with a visit to his favorite place to get the freshest catch of the day, the Negombo fish market, and ends with a scrumptious meal at his restaurant- 'Ministry of Crab'.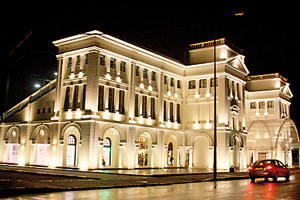 Next Dilshan, Michaels and Ishara, renowned media personalities, introduce the newer side of the city. They show The Colombo Racecourse that was built in the 1800s but now renovated into an international rugby ground and then the Sky Lounge of the Kingsbury Hotel, to view the classic Sri Lankan sunset.The founder of YAMU and the friendly city guide, Indi Samarajiva, shows his favorite spots and the architectural gems in the older parts of the city. The tour included Colombo's old town hall, a tranquil café that also sells handmade goods and the famous Slave Island that offers plenty of cheap food and drinks.
From Colombo, CNNGo heads to the South to meet spa consultant Rosamond Freeman-Attwood for a tour around Galle. It begins with a tranquil morning tea at the Wijaya Beach Side Restaurant and then to Galle Fort, a UNESCO heritage site and its popular shopping arena. It gets more adventurous when Thana Sritharan and Dee de Silva takes CNNGo on a whale watching tour to catch a breathtaking glimpse of the blue whale off Mirissa. Finally, CNNGo visits the Ceylon café, known to serve the best seafood in the country. The trip wraps up in mesmerizing tranquility of the tea country at the hills of the Ceylon Tea Trails with Dilmah tea founder Merrill J. Fernando and his son, Malik.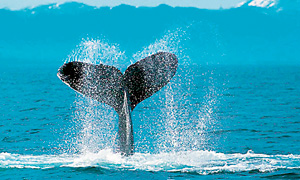 CNNGo featured Sri Lanka as a Destination on CNN International on Wednesday, March 12 at 3.00 pm with a repeat telecast at 11.00 pm; Saturday, March 15 at 10.00 am; Sunday, March 16 at 06.00 pm and will have the repeat telecast on April 5 at 06.00 pm and April 6 at 10.00 am.  Watch CNN International on Channel No. 23 on PEO TV, Channel No. 02 on Dialog Television and Channel No. 28 in the Western Province and Channel 52 in the Central Province on ART Television.