Sri Lankan-born Engineer receives prestigious international award for Bridge Construction
View(s):

Dilshan Tirimanna, a Sri Lankan-born engineer, recently received the Dutch Concrete Technology Award 2013/2014 and the Prestigious FIB Outstanding Concrete Structures of the World Award during the FIB congress held in Mumbai, India last month.

Mr. Tirimanna, originally from Wattala, is the Managing Director and owner of the FDN Group based in Amsterdam, the Netherlands.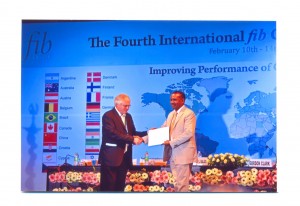 The company is famous for Ultra High Strength Concrete Technology, Floating Structures and harbour and infrastructure design and construction.
The awards involve the development of a sustainable concrete bridge design that is patented worldwide. The need for sustainable traffic bridges in the Netherlands has induced development of a modular building system for bridges in full UHPFRC (very high strength) concrete with high endurance to environmental impact and low lifecycle costs (maintenance free for 100 years), according to a media release from the Sri Lanka Chamber of Small and Medium Industries. "Bridges can be built economically with only two standard moulds, (1) For railing elements and (2) for plate elements. All elements are made from UHPRC for high endurance of environment, human and traffic impact and are prestressed together to form the needed length and width of the bridge. The requirement for the development was to design a bridge using new green technologies with no maintenance for a minimum of 100 years and to have also an economical bridge which does not cost more than the standard existing bridges in steel, concrete or composite," it said.