Singapore named most expensive city
By Sarah Gordon
View(s):
The island nation of Singapore has been named the most expensive city in the world, according to new statistics, knocking Tokyo off the top spot.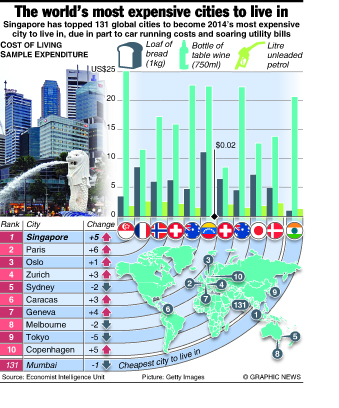 The results from the Economist Intelligence Unit's Worldwide Cost of Living survey placed Singapore ahead of 130 other cities, followed up by Paris, Oslo, Zurich and Sydney as the five priciest cities in the world.
Visitors heading to Singapore will find it is the most expensive place in the world to buy clothes and has an increasingly strong currency. The city's transport costs are also around three times higher than New York, the city which the EIU uses as a benchmark for comparisons.
Jon Copestake, editor of the report, told Bloomberg: 'Singapore's rise is partially attributable to the continued strength of the Singapore dollar, but the city has seen price rises too which have no doubt been compounded by a reliance on imports.'
Last year's most expensive city, Tokyo, was pushed down to joint sixth place for 2014, tied with Caracas, in Venezuela, Geneva in Switzerland and Australia's Melbourne.
When it comes to pricey destinations, European, Asian and Australasian locations made up most of the top 10 list, while the Middle East and Asian subcontinent were among the cheapest places in the world.
Mr Copestake said: 'Improving sentiment in structurally expensive European cities combined with the continued rise of Asian hubs means that these two regions continue to supply most of the world's most expensive cities.
'But Asian cities also continue to make up many of the world's cheapest, especially in the Indian subcontinent.'
© Daily Mail, London