Recognising excellence in architecture
By Tharooshie Mahahewage
Nine shortlisted candidates announced for the triennial Geoffrey Bawa Award
View(s):
The Geoffrey Bawa Trust last week announced the nine shortlisted architects for the Geoffrey Bawa Award 2013/14 for Excellence in Architecture. The event launched in 2008 which happens once in three years will be held for the third time this year. The Trust's aim is to carry out the celebrated architect's philosophy of modern architecture as well as to define modern architecture.
Making the prestigious shortlist are the IFRCS Community centre for Tsunami Affected Community) in Matara (2009) by Chinthaka C. Wickramage (which the judges said were an ideal prototype of its kind); Amal & Himarsha's House in Moratuwa (2012) by Sudesh Nanayakkara ('modern and elegant and used the concept of light and space well'), Toll Plazas & Toll Gate Office Buildings of Southern Expressway in Kottawa (2012) by Janaka Wijesundara (which was quite innovative and appropriate); the Gauva House in Mawanella, Kegalle (2008) by Ranjan Aluvihare & Rohan Aluvihare (extremely powerful and pleasing); the Architects House in Mattegoda (2004) by Chamila Alwis Weerasinghe ('a pleasant affordable and environmentally sensitive reside') and the Royal Bar & Hotel in Kandy (2011) by Y.L. Ganesen ('sensitive to the ambience of the city in which it was located'); Temple Pavilion at Kolonnawa (2011) by Palinda Kannangara ( 'traditional and yet uplifting architecture for the community'), Kadju House (2007) by Pradeep Kodikara ('space without ostentation'), and the Hatton National Bank – Green Building in Nittambuwa (2011) by Suranjan I Ranasinghe ('relaxing and friendly').
The Trust received 53 entries of which these nine were picked by a panel of judges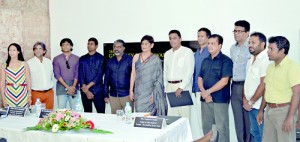 including Ashok B. Lall who is an architect specialising in sustainable design based in New Delhi, Trustee of the Geoffrey Bawa Trust, Eugenie Mack, President of the Sri Lanka Institute of Architects, and the Managing Director of Chartered Architect/Quantity Surveyor Qserve (Pvt) Ltd., Prof. Chitra Weddikkara and former Under-Secretary General of the United Nations and Special Representative on Children and Armed Conflict, Prof. Radhika Coomaraswamy. The judges placed special weight on sustainability and social awareness- a new criteria for this year.
The next step in the judging process involves two judges along with a technical review committee visiting the shortlisted buildings.
The final award will be presented on July 23, 2014 – Geoffrey Bawa's 95th birth anniversary. The key note speaker for the event will be award winning film director Mira Nair.