Pope confesses to pilfering cross
View(s):

VATICAN CITY (Reuters) – Pope Francis revealed on Thursday he had succumbed to "that thief in all of us" and broke the seventh commandment by stealing a small cross from the coffin of a priest so he could remember the man.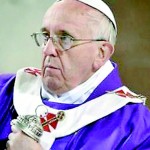 In off-the-cuff comments to Roman priests, Francis recalled when he was in his native Buenos Aires, he went to the funeral of an elderly priest he admired.
He noticed that there were no flowers in the coffin. He bought some and laid them out in the coffin where the dead priest was holding a rosary in his hand.
"Suddenly, that thief that all of us have inside of us came into my mind. As I was laying out the flowers, I took the cross that was on the rosary and, using some force, detached it"
Francis, who did not say when the episode took place, added that he has carried the little cross with him ever since in order to remember the priest and the mercy he showed to others.