A bird of passage
By Smriti Daniel
Travelling to 40 countries in 25 years, Julian Beale's debut thriller 'Wings of the Morning' is inspired by his experiences in Africa
View(s):
Julian Beale, a one-time employee of Land Rover who has spent over 25 years travelling 40 countries, is now a retired grandfather of 10 and a District Councillor in the Cotswolds, England. He is also a first time author. His novel 'Wings of the Morning'is an electrifying thriller set in Africa, with a cast of colourful, morally ambiguous characters and one truly villainous villain. The book plumbs Julian's
own experiences on that continent and takes for its plot the planning of a coup in a West African nation where a corrupt regime is in power.
In his first interview in Sri Lanka, Julian tells the Sunday Times that "writing has become very much my second career." In his first one, he worked for Land Rover in export markets and from 2000 was one of three owners of Guava International which continued to represent the brand in countries including West Africa.In his retirement, Julian has also taken up horse riding, but writing this book may have been the greater challenge.
Describing himself as a "bird of passage" rather than a resident, Julian says it may be easier to ask him which countries he hasn't visited rather than the ones he has. In his very entertaining bio, he says he has experienced 'the machinations of politics in the former English, French and Portuguese colonies. He was involved in the power play of corporations and he worked with the fixers and intermediaries. He saw the unashamed corruption and he witnessed the misdirection of International Aid.' In his time he has also been arrested, bribed, threatened and shot at – all very good material for a thriller, he and I agree.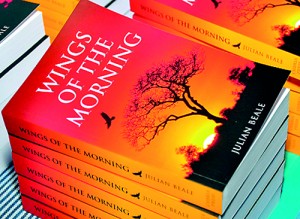 A fan of authors like Fredrick Forsythe, Wilbur Smith (but only the early novels) and Tom Clancy, Julian has written a book that would feel very much at home in the genre. His hero (of sorts) is named David Heaven. Together with Anglo-French born Alexa Labarre, the missionary priest Pente Broke Smith, the security professional Conrad Aveling and the CIA officer Kingston Offenbach, Heaven makes up 'The Oxford Five'. Julian says the character was inspired by the man Margaret Thatcher's government once identified as 'the unpleasant and unacceptable face of capitalism.' A British businessman, Roland 'Tiny' Rowland was the chief executive of the Lonrho conglomerate and is remembered for his many high profile takeover bids, and in particular the one that involved Harrods.
When David Heaven decided to stage a coup, he is in for an unpleasant surprise. A Frenchman named Thierry Cestac waits in the wings, his intent to hijack the plan for his own purposes. For Julian, this character was the ultimate manipulator, and one who became the biggest threat to the plans of the Oxford Five in the novel. In the early course of the book, the action sprawls to encompass events in the Persian Gulf, the Far East and Australia.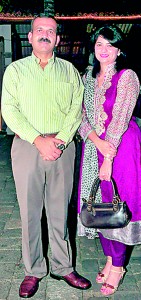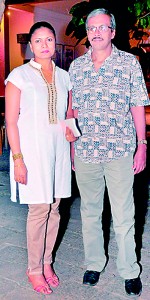 Julian, who has no patience with stories that jump around on the time scale, wanted this story to be told chronologically. His one exception is his opening which has Oliver 'Olty' receive a legacy in the year 2019 from his grandfather – David Heaven. It is through Olty's research that the real story unfolds. While 'Wings of the Morning' offers a stand-alone tale, it is also a part of a trilogy which will bring back some of the characters in this book.
While the experience of writing this novel was invigorating, publishing it was a real eye opener. "The book was a retirement project. It took 18 months to write from the beginning of 2010 and a further year to understand the publication process," says the author, who finally ended up going with Umbria Press.
At his book launch in Colombo, he read an excerpt and signed books for the crowd. 50% of the funds raised that night and at launches to follow in other countries will go toward his charity of choice. The ORBIS Flying Eye Hospital is run by an international, humanitarian, non-profit that transports skilled surgeons and high-end equipment in a custom-designed and converted DC-10 aircraft. The world's only airborne ophthalmic training facility, it allows them to work with communities across the world.
As for Julian, his was also a flying visit and he's already on the next stop of his tour – Bangkok – where he'll be promoting 'Wings of the Morning.' He's excited to see where the book will take him. Clearly, it will be a long time before he retires from his second career.