Pick up this book with a pot of tea at hand and relax
View(s):

The alarm rings and instantly, you hop out of bed. Another day is off and running. In between the haze of a quick shower, a gulped breakfast and a commute to work, the day unfolds as you keep making mental notes in choking traffic. Weaving back and forth looking for the tiniest gap to outdo the crazy tuk-tuks dodging in and out while the radio DJ barks out the minutes — 8:33, 8:41, quarter to, it is hard to imagine a life different to this in Sri Lanka.

Like salve to an aching brow, Srini Peries' book A Three Generation Tale – sequel to her first publication A Gaggle of Aunts connects me with the reality that life was once slower moving. In this book, Srini takes a nostalgic journey back in time to her childhood and beyond before she emigrated to Australia in the mid-1970s with her husband Tony Peries.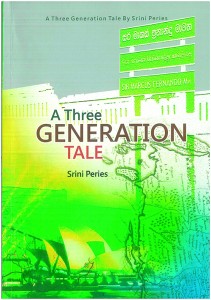 In this carefully researched volume filled with tales of carefree childhood memories, Srini has delved deep into the life and times of her grandmother Johana. A tinge of wistfulness runs through her book as she wonders what Johana would make of the current situation. She paints the character of her mother Rene with vibrant clarity as the sweeping emotions of childhood, adolescence, womanhood and the middle-aged stages travel in dips and swoops.
Srini's tale of genteel living, languid days of life in a gracious mansion and slow lunches connects the reader to a life quite unlike the present. Srini Peiris comes from a distinguished family – her grandfather Sir Marcus Fernando attained a level of eminence few Ceylonese did. Winning several gold and silver medals during his medical studies, he was the first Ceylonese to obtain a M.D, London. Entering politics later on, he made notable contributions in the interests of the public.
Marrying Antony Peries a well-respected mercantile executive from an equally eminent family Srini addresses in detail her charmed life of overseas travels and connections with friends. However, the theme inexorably returns to her life spent in the elegant mansion – "Deveronside" in Colombo.
Srini talks of her childhood spent in carefree abandon among several cousins and family events. The gracious mansion in Colombo she lived in has long evolved into different spaces today, but Srini relates life spent there in special detail. One can almost partake of the several gourmet meals served by a coterie of servants in Srini's work. The volume ends with her current life in Australia.
She writes with a deep sense of nostalgia, sometimes tinged with a trace of unspoken regret.Sentimental yearning is a condition shared by a generation for the ways of the past. In this work, she refers to her past life in Sri Lanka when things were simpler, easier, and more beautiful as she describes each family member with vivid prose. Nostalgia – the kind that is best seen in Woody Allen's movie Midnight in Paris, where different generations each want to travel back to a previous time – and only when they get there do they realise the reality of the period springs to mind.
Since we cannot travel back in time to see the reality, and verbal histories by and large record only the positive, I believe nostalgia is a condition that will always exist. It will always be present in a generation, displayed as a yearning for a life without the stresses and changes of the present era.Nostalgia can exist even when the thing that people long for from their past still exists in their own time period.
A Three Generation Tale brings home the fact that in our current lives, we spend so much time closing ourselves off from the natural world that we overlook the things that matter to us – ties, family connections. It makes soothing reading, quiet reminiscing and is highly recommended with a large pot of tea at hand. A Three Generation Tale pays tribute to Srini's easy style of writing and reinforces the given that community changes, yes, but never disappears.Generations change, yes, but nostalgia never fades away.
At Rs. 500 a copy, the book is available at Lake House Bookshop and the Barefoot Bookshop.
Book facts
A Three Generation Tale – by Srini Peries. Published by Stamford Lake (Pvt) Ltd. Reviewed by Andrea Boekel