Jittabugs Baby and Pre-school: An activity group like no other!
View(s):

Let children be children, let them have fun and learn through play!

Jittabugs UK is now in Colombo! A licensee of Jittabugs UK, Jittabugs offers the most exciting Baby and Preschool Activity Groups in Colombo with structured activities for babies from two months to six years +, to stimulate little minds, exercise little bodies in a manner that's fun for all.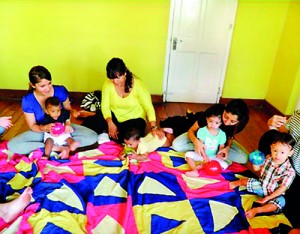 Tutored by a UK trained Jittabugs tutor, the sessions have a range of activities, exercises, music and games to promote movement, posture, balance and memory skills. Not only are they fun, they are educational too as these are in line with Early Years Foundation Stage (a framework by the British Education System).
Jittabugs offers various sessions for different age groups and aims to be the one stop shop for all your baby activity needs in Colombo. With this in mind, they have now opened a very special venue which will be child friendly and will provide activities to encourage reading, playing, physical development, motor skills, socialising, kids' workshops, parenting coaching and parent socialising amongst other things.
Jittabugs has also been enlisted by the British School in Colombo for their after school activity needs to support their EYFS curriculum from playgroup to year 2.
During Jittabugs sessions, all that you expect for a child to have exposure to is catered for in the lesson plans, so you don't have to go for different activities: fun, educational, knowledge of the world, creativity, imagination, dance, music, multi-sensorial, craft, physical exercises, building self-confidence, teamwork, sharing, improving concentration and self-discipline.