Faces that launched many paintings
By Purnima Pilapitiya
View(s):
Affectionately called "Chutson" by her father when she was a little girl, the nickname stamped itself firmly on Henrietta Wickramasinghe's identity. "Most people still refer to me by that name," she laughs, explaining that it has stuck on even through her adult life as she took wing and travelled abroad. Come March 14 and 15 Colombo's art enthusiasts are invited to Chutson's first exhibition in Sri Lanka of her paintings exploring and celebrating the beauty of women- particularly tribal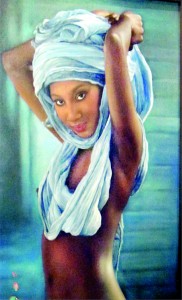 women from South Asia and Africa as seen through her eyes.
Glancing through the strikingly lifelike portraits of African nomadic women with their turban like headdresses painted to replicate the rough jute material used or the piercing gaze of an old Burmese Kayan woman her neck covered by a multitude of rings, it is clear that Chutson is an artist with a sharp eye for detail. Having never studied art professionally, she never dreamed that she would pursue it so passionately. "" Art was always just a hobby," she states simply.
Growing up with a mother who was very creative with her hands Chutson found her niche dabbling with paints and drawing from a young age. Although she studied art in school she retired her brushes upon joining an airline. Travelling the globe took up her time and it seems, fuelled her love for art. "Whenever we transited in Rome I made sure I went to see the works of Michaelangelo," she says adding that her love for art drew her to galleries along her travels.
It was her introduction to well known Indonesian artist Indyra who would prove to be a mentor to Chutson that gave her the confidence to take her art seriously. Indyra pushed her to follow her passion and "gave me the opportunity to showcase a few of my paintings. This was the beginning of my career which paved the way to pursue a lifelong passion, helping me become the artist I am today," Chutson told the Sunday Times in an email interview
Chutson's paintings at a 2008/2009 group exhibition in Jakarta Indonesia were well received and she found herself catering to a growing clientele in Indonesia and abroad. Exhibiting her work back home is now at last a reality.
Her collection of nearly 200 portraits pays tribute to women across South Asia and Africa of diverse ethnicity, age and culture. She places special focus on indigenous tribes and cultures; aspects that really caught her eye during her numerous travels abroad. "I'm attracted to the cultures of tribal people," explains the artist who spends two days to upto two months trying to immortalise these vanishing tribes on canvas. The exhibition will have portraits of women ranging from cheeky toddlers to exotic, slant-eyed beauties in traditional garments to the wrinkles and almost translucent skin of an elderly Kayan woman. Preferring to do portraits Chutson feels that it gives her the ability to tell the story behind the face. "Each portrait speaks a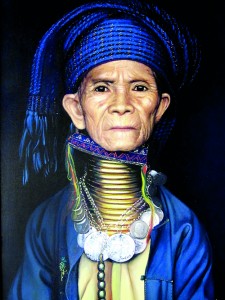 thousand words about its subjects and their world," she says.
Having lived in Thailand for four years provided immense material and inspiration. "I had a stint of four years in Thailand which exposed me to the Siamese countries and the different tribes. These portraits have a sense of peace and harmony," she says. The striking robes, ceremonial clothing, natural dyes and spices, the embroidery and seed-work clothing worn by the well known Karen and Long neck minority people of Burma all provide Chutson ample material to paint with great attention to detail rendering her subjects with lifelike precision.
The exhibition also foreshadows the artist's plans for the future. Hoping to come back to Sri Lanka soon Chutson's vision includes opening a gallery dedicated to tapestries and costumes of the indigenous cultures she has captured on canvas.
A solo art exhibition and sale by Henrietta Wickramasinghe (Chutson) will be held on March 14 and 15 from 10 a.m. to 6 p.m. at the Lionel Wendt Art Gallery.