Excavation suspended, report awaited on remains already recovered
Mannar mass grave
View(s):
Mannar Magistrate Ananthi Kanagaratnam this week ordered a temporary halt to the excavations at the mass grave site in Mannar and called for a full report from the Police.
The decision was made following discussions held near the grave site presided over by the Mannar Magistrate with the Anuradhapura Judicial Medical Officer Dr.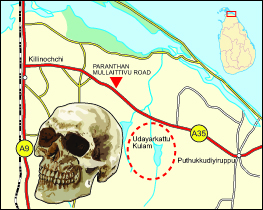 D.L.Waidyaratne, Archeological Research Director N.Kodituwakku, Mannar Police Superintendent S.K. Joseph and CID officials.
It was decided to continue excavations only after the receipt of a report on the human skeletal remains already excavated. The Magistrate ordered the Police to submit a report to court on May 9. So far 81 skeletal and body parts were recovered from the site and excavations carried out 32 times.
The excavations covered an extent of 20.5 metres in length, 8.5 metres wide and 4 feet deep. All human skeletal recovered are at the Mannar central hospital. The Government had appointed a committee headed by former Supreme Court Judge S.I. Imam to investigate the Mannar mass grave.
Earlier this week the commission had commenced an inquiry in which 66 witnesses gave evidence.