The Kingsbury Culinary Challenge 2014
View(s):

One of the best things about The Kingsbury is the opportunities the hotel provides its staff to identify their biggest strengths, portray their talents and exceed in their abilities with the support of professional guidance. This year, The Kingsbury provided both its Kitchen and Food & Beverage staff an opportunity to compete in a distinctive challenge, where each contestant portrayed their skills and talent to bring a spectacular display of outstanding food preparation and artistic presentation. Moreover, its aim is to encourage and facilitate the exchange of culinary expertise, knowledge and ideas with peers within the culinary community, and generate greater recognition and promote awareness of The Kingsbury's culinary capabilities to the food and hospitality industry.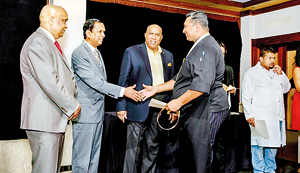 Held at The Winchester on the 23rd of February, The Kingsbury Culinary Challenge 2014 produced some outstanding results displayed by the hotel's F&B and Kitchen staff.  With many skilled staff competing in the various categories, the atmosphere at the competition was power-driven, highlighting the depth of talent and skill that The Kingsbury continues to produce. All contestants were competing for first, second, and third places but more importantly were able to show case their skills in front of national and international judges as well as a fascinated audience against the clock. The Kingsbury Culinary Challenge recognized outstanding food preparation and presentation skills, along with teamwork and the importance of food security.
Judges for the event included renowned culinary masters Chef Chandrasena Sudusinghe, Chef Ranjith Morugama, Chef Gerard Mendis, Nishadha Pediyapperuma, Chef Koluu and Sisira Senaratne. There were several categories in the challenge under two main departments; food production and food & beverage services. Contestants from these two departments were divided into 3 categories; Apprentice (first level), Commi (second level) and Junior Executives (third level) and both departments consisted of three major events; Lead by the Executive Chef of The Kingsbury; Chef Kithsiri de Silva, and F&B Manger; Iyantha Abeysinghe, together with the support of the Director/General Manager of The Kingsbury; Sunil Dissanayake, Director Operations; Dayal Fernando, the management and staff, The Kingsbury Culinary Challenge 2014 was well represented in all categories.