Golden Rose Leader in banquets
View(s):

Golden Rose is the latest addition to city's banquet facilities. Located on the outskirts of Colombo city, the Golden Rose Hotel, is an ideal location for a range of functions, from large weddings, to conferences and even, cocktail parties. The grandiose, modern building offers the full range of facilities and amenities required to host any social or corporate function.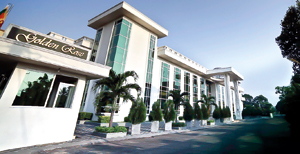 Started about a couple of years ago, Golden Rose combines all hospitality services available in a five-star hotel. It prides Itself in giving friendly service and delicious food. Golden Rose with its theme 'Place for Banqueting' caters to a wide range of occasions; may it be a wedding, a desired moment of happiness, a business conference, a cozy cocktail party or an intimate family get together with close relations and friends.
'Whatever the occasion Golden Rose will give a wide range of facilities to suit the occasion with a diverse mix of fine cooking and a friendly service geared to meet the guests needs in every manner, in a lavish contemporary edifice' said the GM of the Hotel.  The imposing, three- storied building haswithin its ambit four exceptional function areas. The first among these is one of the largest 20-feet high, pillar-less Banquet Halls in the country, luxurious and extravagant in every way.
This has a capacity for 1000 guests (theatre style) and could be modified to accomodate700 guests (banquet style). This is the ideal venue for high profile weddings. Golden Rose has all facilities to make your wedding day a perfect occasion and provide all facilities to ensure that the wedding ceremony is pleasant and unforgettable.
Four luxury guest rooms are available for pre function preparation such as dressing and other requirements of bridal parties. Golden Rose is an ideal venue for Conferences, Seminars, Conventions, Inductions and Dinner Dances etc.It has a 1500-sq.feet Dance Floor, one of the best in the country. Arrangements could be made to suit the requirements ranging from 1000 guests or lesser numbers.
The Diamond Ballroom and the Pearl Lounge on the first floor could offer all round facilities in the Greater Colombo area for conferences, seminars, birthday parties or informal meetings for 80 to 150 guests.All one needs in amenities will be provided as per requirements, such as Registration Tables, Media Systems, Projectors, Stationery etc., to meet specific requirements.
The state of the art kitchen at Golden Rose with kitchen equipment equal to the best in the country or elsewhere ensure the preparation of quality food under the most hygienic conditions.  The chefs at Golden Rose are highly trained with experience in 5-star hotels in Sri Lanka as well as abroad.  For more details log onto http://goldenrose.lk