Catch the wanderlust bug
By Duvindi Illankoon
Walking down and around the beaten path, the team at 'Little Adventures' delves into Sri Lanka's nooks and crannies, organising activities and expeditions to thrill even the seasoned traveller
View(s):
Ashan Seneviratne thinks it's a little ridiculous that his fellow countrymen have such trouble with their overseas holiday budgets. "There's so much to do, so much to see in Sri Lanka," he enthuses. "I've been travelling around the country for god knows how long and there's still so much that I have on my destination list!" The 37-year-old caught the wanderlust bug a long time ago-"it's infectious"-and as a founding member of Little Adventures, he's hoping he can share some of that with young travellers.
The enterprise was born of a hankering for…well, adventure on his end. Ashan used to manage a key travel agency in Sri Lanka and lives, breathes and talks tours. Find him a map and he'll be in his element, spotting places that you've never heard of before and sharing some interesting tidbit about the place. That's exactly what the Little Adventures team has a knack for-finding off the beat attractions in some unlikely spots. Occasionally, they'll pick a 'sight' and delve deeper, discovering the little nooks and crannies of the place. For example there's the Dorawaka Rock Caves expedition, where only a few miles away from Kegalle you can delve into deep jungle and explore the caves of Dorwaka which have existed for thousands of years (literally-archeological findings date back to 6300 BC). "I had goose bumps the entire time," recalls Ashan. "It felt like we were going into the unknown, everything was so still."
It only served to re-establish his belief in the sheer accessibility of Sri Lankan history. "Our history is just over the horizon, it's accessible. It's not so far away that you can't touch it or enjoy it. But as Sri Lankans how much do we really know about this country?" For example, did you know that at the bottom of Saradiel's mountain (Utuwankande) you'll find a village steeped in history and tales of the legendary Sri Lankan Robin Hood? Kalpitiya doesn't just offer superb whale watching but also has fantastic coral reefs. Colombo is best enjoyed by nighttime, when the busiest of streets slumber and the lights cast shadows on towering office buildings. These are all things that the Little Adventures team lives and breathes as they go about their daily business.
They offer excursions in five main areas, simply named Sea Adventures, Wild Holidays, Road Safaris, Hiking and Trekking and Wild Adventures. For the moment, the team concentrates on these areas that they're familiar with and know best. "You'll find that whoever hosts the experience is a professional," shares Ashan. "They're experienced, know what they're talking about and more importantly, they know what they're doing." It's for this very reason that they've chosen their expeditions with military precision. "We want to be able to give the best of whatever it is to our clients and safety is paramount."
To be frank though, these guys seem to offer a wide range of activities for whatever your heart desires. If ocean expeditions are your thing then there are plenty of safaris to choose from; be it dolphin and marine life watching, or snorkeling, skin diving and yachting excursions. The best bit? You'll follow it up with a fabulous lunch on a deserted beach. What better way to wrap up a day of adventure?
Then there are the Wild Holidays for the campers, where you can pitch a tent and relax under the stars, chilling out in the warmth of an open fire. There'll be a barbecue, tall stories and good times. Or you could add an element of danger and experience the thrill of a Wild Adventure and take a safari through some of the country's best national parks, guided by a Little Adventures specialist.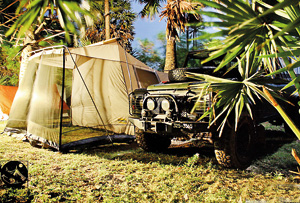 And if working up a sweat is what gets you going, then you probably need to sign up for a hike or road safari. Hikes happen around the country-from the misty mountains of Nuwaraeliya to the dusty roads of Kalpitiya, Little Adventures organises special expeditions tailored to suit their clients' needs. For example there's the Bible Rock tour, which caters to those with a penchant for fantastic scenery and breathtaking views. "Bible Rock is familiar to practically every person who has travelled to Kandy," says Ashan of the infamous rock visible from the Kadugannawa pass. "What we're doing is taking you a little closer to that view, so you're standing on it instead of watching from afar." The view from Bible Rock appealed to the romantic in one client so much that he actually proposed to his girlfriend on location. Little Adventures handled logistics from afar.
Making the unusual into a norm is what drives Ashan and his team. Take their Colombo cycling expeditions at night-who would have thought that pedaling your way through the roads of Colombo could appeal to the wanderlust? But that it does, which is why the team have expanded these cycling expeditions into properties with acres of cycling tracks, and perhaps even a horse-riding trail will happen in the near future.

They've also got a strong social conscience, practising international standards like 'Tread Lightly' in their expeditions and consulting with eminent environmental specialists like Gehan de Silva Wijeyeratne. Ashan works with several environmental conservation groups as well to ensure that his business is run with minimum impact on the very environment that they explore with their tours.
For these guys their task is never 'work'. It's the sheer pleasure of waking up on Monday to a job that they absolutely love that keeps them strong in the face of logistical nightmares and impossible treks. If there's a will there's a way we've been told. And if there's a way, then you're sure to find the Little Adventures team trailing a well-worn track down that path.
Learn more about Little Adventures on www.littleadventuressrilanka.com