ATTIRE – A Creative Cause in battling Cancer
View(s):

"ATTIRE – Walk for a Cause", a glamorous evening of fashion, design and vibrancy co-organized by the Interact Clubs of Kingswood College and Colombo International School, Kandy, caused warm applause when it unfolded last week, at the picturesque Kandy City Center Penthouse Terrace.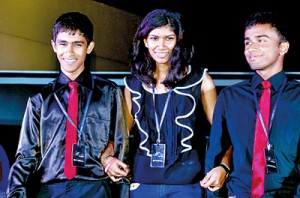 The event was a community responsibility fundraising project on behalf of the Cancer Hospital, Kandy, which showcased the talents of an active body of young designers and fashion artists from a range of schools from Kandy and its neighbouring districts. Running hand and hand with the fashion designing competition for teens were eagerly followed contests on graphic designing and interior decor. The competition and exhibition was followed by a gala fashion show which was warmly received by an eager but homely crowd gathered.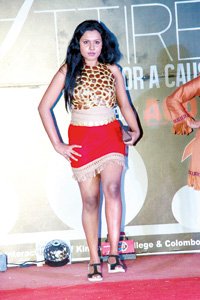 The overarching theme of "ATTIRE – 2014" was "Reincarnate" and this resonated in the three areas, where participant students were seen to work on a range of products from shirts, trendy wear to lamps, in the "interior décor" category.
The chief guest of the fashion eve was the Governor Tikiri Kobbekaduwa , while other guests included Dr. Sunil Siriwardana the Deputy Director of the Kandy General Hospital and the Principals of the organizing schools. The Principal of the Academy of Design, Colombo – the premium Platinum Sponsor of the event – and her institute were instrumental in the successful execution of the project.
The entire idea of this worthy cause created by Interact Club of Kingswood College and forefront by Project chairperson, Sathira Leukebandara, secretary, Salinda Samarakoon and rest of the team.  Photography coverage was provided by Lathika Thoradeniya of Xtreme Youth, Manilka Jayasinghe of Pixel Art Studio and photography Club of Kingswood.