All talk on morning radio
View(s):

Marking its first year on-air, hosts Danu and Jovi recap the ups, downs and in-betweens of 'Lite Morning' The Lite FM morning slot 'Lite Morning' is just a year old but has already had its fair share of ups, downs and in-betweens. However, the duo behind it will tell you that they're just two regular people who know the same things as you and me, except they're on air and they like talking-like, "a LOT." Danu was first invited to host the show early last year, and after a week or two of going solo he got a little bored and invited Jovi, a staffer at TNL Radio Network, to co-host the show alongside him.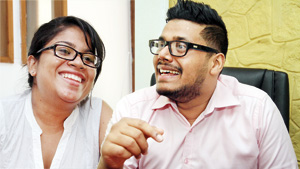 A dynamic radio partnership was born-"I couldn't have asked for a better co-host," Jovi shares. There's a pause, and then-"well maybe someone who made it to the show on time!" It's the only drawback of hosting a morning show, they sigh. From 4 a.m. to 4.10 a.m. Danu is to be found tossing around in his bed like clockwork, mastering an internal battle of wills of whether to stay awake or go straight back to sleep. "But as soon as we start the show and the messages pour in all that is forgotten," he smiles. Well wishes, family snaps, even a birthday cake or two. They've been the recipient of some strange and wonderful gifts as hosts of the morning show.
They've introduced new segments and taken them off and sometimes even recycled old radio ploys to good effect. If you're a regular listener you'll know Auntie Maureen who famously and unashamedly discusses her family life and the cost of living. Auntie Maureen was introduced in keeping with the duo's mission to be very much a Sri Lankan radio show. They don't harp on the Queen's English and once memorably hosted an entire show in Sinhala, 'Bara Nethi FM'. "People still talk about it," laughs Danu. "One of our greatest moments, that."
The duo are more determined than ever that it be known that Danu and Jovi are not journalists or puff-publicists. "We believe in voicing our opinion," they say. "They might not necessarily be agreeable to everybody but if that's how we feel about something, and we feel it is justified, that's how it is." As listeners you are in turn, more than welcome to share your opinion.
So tune into Lite FM (which turned a grand 15 this year as well) every week day morning from 6-10 am for a piece of the grand debate on life, love, current affairs and everything in between.