A healing movement
View(s):

Having lost their parents in the 2004 tsunami, Rob and Paul Forkan's flip-flop range 'Gandy's' is a way for them to honour the memory of their parents and fund their personal mission to support orphaned and underprivileged children. Rob and Paul Forkan are selling much more than mere flip flops. Wrapped up in a pair of Gandy's is their best memories of childhood, a way to honour the parents they lost in Sri Lanka and their dreams of helping other orphans like themselves.
When the Mirror Magazine catches up with them, the two brothers are still reeling with excitement over the opening of their new HQ in London, ahead of a global launch that will see Gandy's products become available in 30 countries.

"Our new office opening was a really important milestone for us – we started our company from our one-bedroom flat in London and then after that we moved to a slightly bigger flat, where we had a team of about five people working in our kitchen," says Rob. Celebrities and heavy-weights have come out in support of the brand: the Mayor of London Boris Johnson was at the launch. They've met Prime Minister David Cameron (twice) and seen Richard Branson, Jamie Oliver, Niall Horan and Jessie J try on pairs of Gandy's. A WGSN Global Fashion Award may have raised their profile, but the real appeal of the brand lies in the story of courage and love behind it.

The sons of a successful couple, Rob and Paul's lives changed when their parents Kevin and Sandra decided to sell their home of 20 years in 1999, leave behind a successful business in the UK and hit the road. Encouraged only to carry what they could fit into a backpack, four of the couple's six children would be going along for the ride: Rob was 13, Paul was 11, while Mattie was nine and Rose was just five-years-old. Committed to volunteering with charities working in developing countries, they began their journey in India, where they settled for four years.

After India, they moved to Sri Lanka where tragedy struck. Having chosen to spend Christmas at a seaside resort in Weligama, the family woke to the sound of screams and water rushing through their bedrooms. Kevin and Sandra struggled against the water long enough to get Rose and Mattie to the roof before they were overwhelmed. Having found a metal bar on the roof as well, Paul clung on for dear life, clutching Rob as the water thundered around them.

Though they had survived, the children were now orphaned. They had lost their money and their passports. Thanks to their own determination and the kindness of strangers, they made it to the airport and back home. Despite the loss of their parents, the two oldest boys remained travellers at heart, continuing to save all they could from their day jobs in London and even returning to India where their family had made some of its fondest memories. Having spent years roaming the world in flip flops, the two eventually decided to found a brand that celebrated the values their parents had instilled in them…and to see how many people they could help while doing it.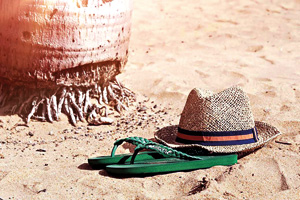 Today, Gandy's 'movement' encourages customers to become ambassadors for the brand: "last summer we reached 75,000 pairs which is around a third of our target – and now that we're launching into 30 different countries we're on target to open our home by the end of this year – which we are so excited about!" says Paul, referring to the children's orphanage they intend to open in Goa with their profits. "We decided that we wanted to build our first children's home in Goa because we have really happy memories from our time spent there. We want it to be as inclusive as possible so it will not only support children who have lost their parents but also underprivileged children in the area," Rob adds.
(Their first blog post about their business – 'filling our parents' shoes' got them a million views online.)  In 2013, the brothers also chose to return to Sri Lanka. Emotionally it was a rollercoaster – meeting survivors of the tsunami in particular reminded them of what they had themselves endured. However, the trip marked the beginning of an exciting collaboration with 'Monsoon Accessorize', with the two organisations committing to educating over 1000 Sri Lankan children each year. In another much shared blog post, they summarised their visit to the island: 'It has been a trip of a lifetime and something that started so raw, actually left us wanting to stay longer – we even walked down the beach on the last day!' Crediting the 'hospitality and beautiful smiles of the Sri Lankan people' they have met with inspiring them, they went on to conclude: 'We thought this trip may help us to forget. It didn't. We know that the scars will always be a part of us and represent the life that we have lived….therefore we show ours in the hope that you can see healing is possible.'