Wedding banquet shakes Karzai's security ring
View(s):

Afghan President Hamid Karzai is one of the most protected world leaders and is covered by a highly trained personal security detail which includes Pentagon bodyguards now working for Dynacorp, a private US military outfit. So when it came to addressing a news conference during his two-day visit, the men who accompanied him on the special aircraft, and their local counterparts had a tug-of-war.

The original plan was for President Karzai to come down the lift from the suite where he was staying, walk through the aisle next to the main banquet hall to the Moonstone Room at the Colombo Hilton. Notwithstanding a wedding that was under way, the local bodyguards were laying a red carpet for the VVIP. As this went on, the guests were moving around.

That meant the Afghan President would have to walk through the area whilst guests were serving lunch from the chafing dishes that formed the buffet. It was placed in the aisle. Mr. Karzai's bodyguards would have none of it. They wanted all the guests inside the banquet hall and the area locked up. They also demanded that the food on chafing dishes be removed. Those at the wedding vehemently objected.

There was a lot of hemming and hawing. Then a compromise was reached. President Karzai would leave the main entrance of the hotel in a car with escorts, be driven to a narrow road (just adjoining Galadari Hotel) along Lotus Road and later disembark just outside the Moonstone Room of the same hotel.
That is not to say that the security arrangements were so water tight. Media personnel covering the news conference were advised to obtain security clearance at a desk placed at the entrance to the hotel. Once they did that, they received a sticker. With that, they could walk to any part of the hotel before they entered the Moonstone Room.
---
Namal and the Anarkalli joke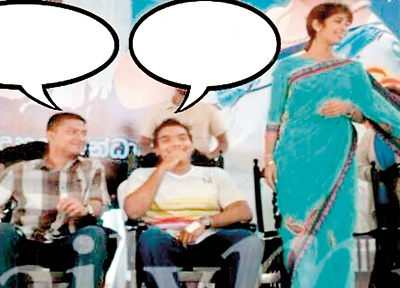 Namal Rajapaksa – the young Hambantota district Parliamentarian and the President's son – set off a Twitter war this week when he shared a meme featuring himself, a friend and former Southern Provincial Council Member Anarkalli Akarssha on an election stage. Ms. Akarssha is a candidate at the forthcoming Southern Provincial Council poll.
In the meme, she is standing while Mr. Rajapaksa and his male friend are in armchairs looking in her general direction. A speech bubble above the friend's head shows him smirking in Sinhala to Mr. Rajapaksa, which cannot be reproduced or translated here. In response, a laughing Mr. Rajapaksa asks his friend whether he's nuts. The said behind, he rebuffs, is as flat as a plank!
Mr. Rajapaksa tweeted the meme from his official handle @RajapaksaNamal on Tuesday along with a "smiley face" icon and the words: "Look what I found".
One Twitter user asked: "Do you think this is something appropriate for a govt rep to be tweeting? Disgusting." To which another replied: "he's not a rep, he's 1 of the owners." It was also noted that the language on the meme could not be accurately translated "without recourse to expletives". A citizen journalism website helpfully observed that this was a "cogent example of why even 1st family's youth urgently need SM education" ('SM' here stands for 'Social Media').
But Mr. Rajapaksa also attracted support. Among them were people who accused the others of not having a sense of humour and of not appreciating that Mr. Rajapaksa was "jst a simple human being lik us" (sic). Ms. Akarssha, too, defended him on her Twitter account: "I am the subject of discussion in that meme and if I am not affected by it I hope that you will just let it go too." One Twitter user curtly pointed out to her that, "…it's a bad time for such jokes cuz the masses don't take female politicians seriously and that is so sad". Another told her, "YOUR defending is more disturbing than him sharing the meme. You should be more responsible!"
There was no apology from Mr. Rajapaksa. He did try, however, to explain his behaviour in two subsequent tweets posted the same day. One said, "Sri Lankan meme images are taken as lighthearted jokes & I never take them seriously or get offended by them." The other, "Memes sent to me by followers make me laugh & I simply re-share as a joke & not to offend anyone."
Mr. Rajapaksa confirmed to the Sunday Times on Thursday night that his Twitter account had not been hacked; it was indeed he who had tweeted the meme to his followers. He said he had seen it on Facebook and shared it after asking the relevant person whether it was alright to do so. He also said that, while there were so many jokes and memes about his parents -particularly his father – himself and his brothers, he did not take them seriously. He just laughed at them and moved on.
Ms. Akarassha's defence of Mr Rajapaksa's action has prompted another meme. It shows the beaming face of the model turned actress turned politician alongside the Sinhala words: "If the XXXX (said part of the anatomy) is mine, if mine is the XXXX (said part of the anatomy), why is anybody else in pain?"
Since the tweet, Mr. Rajapaksa has attracted many more followers to his Twitter account. It was 9065 at the last count and growing.
---
Fisticuffs at office of top Rupavahini official
That it happened in the office of a top management official at Rupavahini, the national television broadcaster, may see some heads rolling.
Insiders say that one senior management official assaulted a colleague in the office of a key person. Now an inquiry is under way.
The tussle, they say, is over the refusal of colleagues to support a recommendation by one management man to increase the monthly salary of an employee.
Now, they say that the UPFA leadership is awaiting the report before taking action against all those involved. They are livid that fisticuffs occurred in the office of a top man.
---
All's not well with Lankan physicians in US
An association of Sri Lankan physicians in the United States is in deep trouble with one of its key members accused of diverting funds out of the country. Misappropriation? Yes. Money-laundering? No. The association is scheduled to hold an emergency meeting on March 30 to discuss the charges. In a letter to past and present members, the association has listed the following agenda item:
"To discuss a proposed motion of 'no confidence' against a key official for allegedly misappropriating and unilaterally transferring association funds out of the country to a foreign source without approval of the Executive Committee of the organization". According to a visiting Sri Lankan expatriate, the medical fraternity in the U.S. has been known to live in the lap of luxury. But at a price: one Sri Lanka physician is serving a jail term in a federal penitentiary for medicare fraud and another was arrested last year by agents of the Federal Bureau of Investigation (FBI) for drug trafficking.
---
Mattala attracts local tourists, not flights
The Mattala International Airport has become more of a tourist attraction than a busy airport as a visitor to the area found this week. The lobby area entrance tickets which are priced at Rs. 150 were being sold at the discounted price of Rs. 100 to attract more people to go in and see that section of the building even though the glass frame through which the runway can be seen was covered with white paper.
A large number of locals are flocking to see the airport, but many chose to drive around it and head off to see other places without bothering to buy a ticket to go and see the inside. "One desolate airport it looked like," the visitor said. Civil Aviation Minister Priyankara Jayaratna who was asked on Thursday in Parliament about plans to shift the colossal loss making Mihin Lanka operations to Mattala had a different view on the airport.
He invited UNP MP Ravi Karunanayaka to go to Mattala with him and see for himself how many aircraft were using Mattala and the large number of transit passengers there. "Air Arabia has stopped operations but will resume soon. Many other airlines are also in discussions to use Mattala," he said rather optimistically.
---
Sinhala with a smile for British Council chief
During US President Dwight D. Eisenhower's administration from 1953 to 1961, Kentucky retail magnate Maxwell Gluck was named Washington's Ambassador to Sri Lanka.  Arriving in Colombo, he told an interviewer that he wanted to learn Sinhala but later gave up the idea on learning saying that the alphabet was too long.
It was a different case this week. "Mama Sinhala Bhasawa Iganagannawa, (I am learning Sinhala)," Keith Davies, Country Director of the British Council declared when he launched an English skills programme at the BMICH. The project is under the aegis of the Presidential Secretariat.
Mr. Davies said he has been trying earlier to learn Chinese for five long years. However, he found it hard and hence chose Sinhala. One time envoy, Gluck was in the news last month too. Reference was made by The New York Times in a front-page story on the inability of Obama's ambassadorial nominees to answer questions posed at Senate Foreign Relations Committee hearings. Gluck had been asked then to name the head of the Sri Lanka Government but did not know who it was.