Geneva casino: Winners and losers
View(s):

My Dear Mahinda maama,
I thought I should be writing to you because these days, everybody is talking about Geneva and blaming it on you while you are busy talking to Indian Prime Ministers, entertaining Afghan Presidents and trying to win provincial council elections for your party!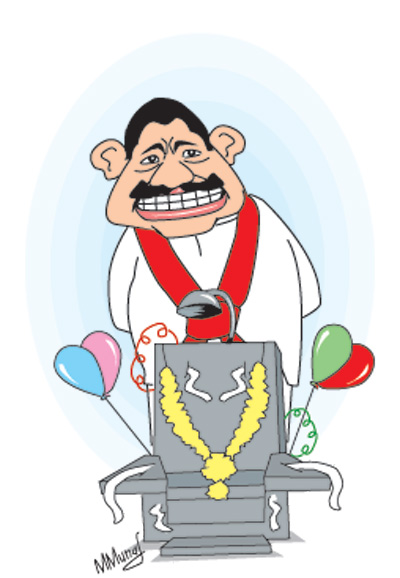 I know you tried to chat up Manmohan in Myanmar but he was non-committal about supporting you because he needs to do what Jayalalithaa wants him to do, if he wants to have any chance at the next elections. Anyway, don't worry too much about that because his days in office are now numbered.
Seeing you with the Afghan President made me wonder whether you were copying each other: you wear white with a red 'saatakaya' and he wears black with a green 'saatakaya' like outfit. But I know you won't copy him too much because he has recently announced his retirement after ten years in office.
However, I thought it was quite ironical — and sad — that a drone attack killed five Afghan soldiers while the Afghan President was in Sri Lanka. And guess who had launched the attack? It was NATO forces led by the Americans and the British!
These chaps — the same people who want to investigate us for 'war crimes' for ending terrorism — have called it an "unfortunate incident" and apologised to Afghanistan. For them, the matter will end there. There will be no 'international inquiries'. I didn't hear Navi Pillay scream blue murder in Geneva either!
I know that G.L. is in Geneva so the outcome of that is a foregone conclusion, isn't it? It is not for nothing that he is called G.L. When they named him, his parents must have had some premonition that he is destined for greatness and that someday, he would be known to posterity as Geneva Losing Peiris.
You must be finding it quite irritating that this Geneva business is returning to haunt you year after year when you thought that it would go away after a couple of years. With that Pillay lady in charge there, I think you should brace yourself for this every year in March for a few more years to come.
We can see that Uncle Sam is pulling the strings to get this done. Why, I heard that Montenegro was one of the countries sponsoring this resolution. I don't know where on earth Montenegro is — at first, I thought it was a nickname for Obama — and I don't think people in that country know where Sri Lanka is either!
If you were to look at the bright side though, Mahinda maama, at least this year you would be able to win two provincial council elections by playing the patriot and offering to go to the 'electric chair' on behalf of your country. Ah, you may be the only person who can lose a vote and still win an election!
Based on that same theory, I have a suggestion for you. Since this Geneva nonsense is likely to go on for several years more and since you need to have general and presidential elections in the next couple of years, why not schedule them to co-incide with the Geneva sessions next year and the year after?
Mahinda maama, I also heard that you had given Rauff a tongue lashing recently because he is alleged to have carried tales to that Pillay lady while still being a member of your Cabinet. That may not be very proper, but this is what happens when you invite people elected from the Green party join your Cabinet.
I know you will not sack Rauff — not before the elections anyway. You wouldn't want an entire community voting against you at the election in Basnahira and Dakuna, would you? Rauff is like Lasith Malinga in the cricket team — he is totally out of control, but sometimes he can win the match for you!
To be fair by Rauff, we have people like Champika whose party is opposed to casinos but they still remain in the Cabinet. They too made a big noise about it but when you asked that hundred-rupee-Udaya fellow to lead your party's campaign for the elections, they quickly forgot all about casinos!
I know managing all these affairs of the State must be quite a demanding task, especially when everybody seems to blame everything on you. Why, some were even begging you not to attend the Asia Cup final yesterday, Mahinda maama. Need I say any more?
Yours truly,
Punchi Putha
PS: Talking of cricket, I heard that you had appointed Captain Cool's brother, young Nishantha, to the top job at the airline that bears your name which is running at a colossal loss. I thought I should congratulate you on that excellent choice, Mahinda maama, because he is the best man for the job. After all the losses he made at Sri Lanka Cricket, you can bet your last rupee, he will be very much at home managing Mihin!