Drought could impact adversely on economic performance
View(s):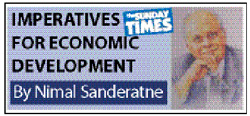 The continuation of the current drought could have a pervasive impact on the economy. The prospect of an improvement in the trade balance, and consequently a significant overall balance of payments surplus this year is threatened by drought conditions. Already agricultural production and hydropower generation have been reduced. Drought conditions since November last year have affected paddy, food crops, tea and rubber production adversely and next year's coconut output is likely to be low. A significant decrease in hydropower generation due to low levels of water in the reservoirs would increase import expenditure on oil.
These adverse developments will affect national output, decrease exports, increase imports, strain public finances, increase the cost of living and worsen livelihoods, especially of the rural poor. For these reasons, a break in the prevailing drought conditions is crucial for the economy.
The drought has gripped most parts of the country since mid-November last year. There has been no significant rainfall in the North Central, Southern and even the upcountry region. Six districts are in dire need of water. What is worse is that there are international warnings of an El Nino weather system later this year.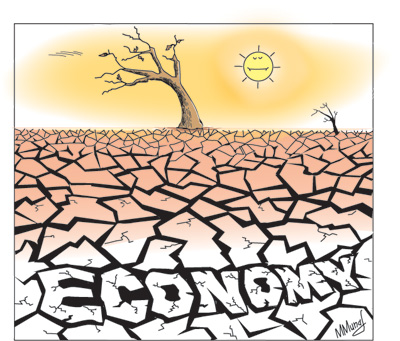 Impact on agriculture
Although agricultural output (including fisheries, forestry and livestock) contributes only 11 per cent to GDP, a fall in agricultural production would affect the trade balance, fiscal performance and livelihoods of a significant proportion of the population adversely. Production of food crops and export crops has already fallen and is likely to be lower this year.
The Maha paddy harvest in several regions is adversely affected. The drought in the upcountry has destroyed tea plants and curtailed tea plucking. Rubber production has been severely affected by inadequate rain, coconut trees have been destroyed by the heat and the Mahaweli is parched in some areas and at low levels in others. The water levels have dropped in the main reservoirs. All these impact heavily on agricultural output and incomes of farmers.
Paddy
Paddy output this year is estimated to be much less than last year. Drought conditions have affected more than 20,000 farmers and destroyed 16,000 acres of rice fields. According to Ranjith Punyawardena, chief climatologist at the Department of Agriculture, this year's Maha paddy harvest was likely to shrink by 7-10 per cent due to the shortage of rainfall. The loss could be around 280,000 tons that would reduce this year's paddy output below 4 million tons.
Other estimates of crop loss vary from 10-15 per cent to as much as 35 per cent less than last year. Although the Maha harvest is badly affected, green and golden fields are still clearly visible in some areas such as the fields irrigated by the Kantalai tank in the East.
The Government plans to mitigate the impact on the Yala crop in the five drought-affected districts by providing farmers with chemical fertiliser and seeds free for the next sowing season, in addition to giving financial assistance to farmers. However the success of the Yala crop depends on adequate rain in the coming months. The cyclic pattern of rainfall, with two or three years of normal rainfall followed by a year of drought, suggests that this is a drought year.
A sharp drop in the Maha harvest would increase prices and yet reduce farm incomes. Similarly vegetable prices are likely to increase. Furthermore, the drop in output may necessitate rice imports that would increase import expenditure and increase the trade deficit this year.
Tea
Last year's record harvest of 340 million kilograms enabled tea exports of 290 kilograms that earned US$ 1.5 billion. This year's tea crop is likely to drop unless good rainfall later this year makes it possible to catch up the loss in the first quarter of the year. It is not only the quantity of tea exports that are affected but rising temperatures are likely to impact adversely on the quality of the crop.
The prolonged drought has reduced tea production by about 50 per cent so far this year. The drought affected tea plantations in the hill country as well as in the low country. According to the Tea Small Holdings Development Authority (TSHDA), 400,000 tea small holders in Ratnapura, Kalutara, Galle and Matara districts have been affected by adverse weather.
Crops have declined drastically and likely to have caused long-term damage due to death of tea plants. However, the Tea Board is cautiously optimistic that if weather conditions improve by the second quarter that tea production could reach last year's record of 340 million kilograms.
Coconut and Rubber
Coconut and rubber have also been badly affected. The drought conditions in some parts have been so severe that coconut trees have wilted. The impact of the drought on coconut production will be felt mostly next year. Rubber production is likely to fall significantly due to the lack of rainfall.
Power generation and oil imports
The decreased rainfall has severely reduced hydropower generation. In normal years around 40 per cent of power demand is met through hydropower generation. When the rains are good, this share rises to more than 50 per cent, while in years of poor rainfall the country is forced to rely heavily on expensive thermal power generation for about 70 per cent of power, as in 2012 when about half of the $4.2 billion oil import bill was for furnace oil for generators.
Receding water levels in hydropower reservoirs have dropped hydropower generation down to 16.1 per cent and the thermal power generation has increased up to 82.5 percent, according to the Ceylon Electricity Board (CEB). With the increase in thermal energy, the CEB losses would increase.
Manufactured exports
If electricity costs are increased or there are power cuts, the costs of industrial production would increase. This is especially so in ceramics. Consequently manufactured exports would become less competitive.
Conclusions
In a year when economic prospects appeared to brighten, climatic conditions are likely to set back the economy. The declines in agricultural output, decrease in exports and an increase in import expenditure, especially for oil are imminent. If the monsoon rains come, the damage that has already been done could be mitigated somewhat.