Sri Lankan-born scientist finds novel mutations in cancer
View(s):

Dr. Jay Gunawardana, a Sri Lankan-born cancer researcher affiliated with the BC Cancer Agency and the University of British Columbia in Vancouver, Canada has identified novel mutations in a gene that has not been described before in any cancer and holds the promise to provide better treatments for affected patients.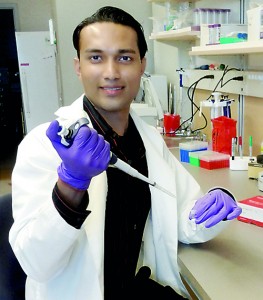 His findings published in the prestigious scientific journal Nature Genetics is part of a worldwide effort to identify gene mutations in all kinds of cancer tumours so treatment can be better targeted to an individual's specific illness.
The study took samples from healthy cells and cancer tumours in about 100 patients, which were then analysed using state-of-the-art gene sequencing techniques that have only become available in the last few years. The investigators found about 20 per cent of patients with Hodgkin lymphoma and a subtype of non-Hodgkin lymphoma (primary mediastinal B cell lymphoma) carry the same genetic mutation. While there is currently no therapy that can fix the damage caused by this mutation in the gene called PTPN1, it is expected to help scientists and clinicians to find a treatment now that the target is known.
Lymphomas are the fifth most common cancer in humans and cover about 50 different types of cancer that affect the lymphatic system that control the body's immune response.
The study team was led by Dr. Christian Steidl, a scientist at the BC Cancer Agency and a professor in the University of British Columbia's Department of Pathology.
Dr. Gunawardana is an alumnus of Royal College (Colombo, Sri Lanka), Temple University (USA) and the University of Rhode Island (USA).