Paddy farmers in quagmire
On the spot report by Chathuri Dissanayake and Aanya Wipulasena
Traditional farmers turn to alternative crops, ventures
View(s):
Traditional farmer Gamini Rathnamalla was busy turning out flowerpots from cement when we met him in Anuradhapura, the heart of Sri Lanka's rice bowl.
Two lanes away, fellow farmer Nimal Senaratne was napping. Having switched from paddy farming to alternate crops long ago, he has less to worry about than Mr. Rathnamalla. With the little irrigation water his farm received this season, Senaratne successfully
Playing with paddy prices: The notice on the Paddy Marketing Board in Ampara says it will buy paddy at Rs. 35  but farmers say the PMB office is closed .  The third picture shows a private facility nearby announces that it will buy paddy at Rs. 28.
cultivated corn, a more profitable crop.
Father-of-two and secretary of a farmers' association in Kekirawa, Mr. Rathnamalla took up flower pot production lastyear to meet rising expenses. "Paddy cultivation was no longer profitable," he tells us. "We do it because we have no choice."
He fears that things will be worse this year due to an expected reduction in yield. Why? Because the Government reduced the fertiliser subsidy last year, rains were scarce, irrigation officials didn't release water to the paddy fields in time and guaranteed price for harvests has become a farce due to poor implementation.
Many paddy farmers in Anuradhapura are facing these serious challenges by changing from paddy cultivation to alternate crops. "I have stopped paddy cultivation for five years now," says Mr. Senaratne, himself the president of a farmer organisation in Bedun Ela. "Almost 50 per cent of our farmers have deviated from rice to produce such as soya bean, corn, banana and papaya."
Some farmer families have stopped paddy altogether and grow crops like guava, mango and corn. S. Adikari says she made no profit from cultivating her acre of paddy but is now earning good money after switching crops. As she supervised workers in her one acre guava plantation, she pointed out that her family earned enough to buy 1.5 more acres of paddy land on which they grow supplementary crops.
Alternate crops also require less fertiliser and tending, she said. That was another attraction.
To add to their woes, the weather gods also seem to have abandoned the farmers. Rainfall was lower than expected and many cultivators in the North Central Province could not till those portions of their lands that depended on rain water.
According to Polonnaruwa District Secretary Nimal Abeysiri, the decision to switch from paddy to
other crops is taken jointly by farmers and the authorities. "We had a 'kanna resweema' and decided that if the drought continues the farmers will have to move into additional crops," he said, indicating that the drop in production may continue into the next season.
Authorities in Anuradhapura District have also given similar instructions, says District Secretary Mahinda Seneviratne. According to him, water has become too scarce even for daily use. He worries that people in the area would not even have enough drinking water in the near future. If this condition continues, paddy cultivation will be affected.
"To produce alternate crops, we will provide the farmers with fertilizers and also open up stores to stock the harvest", Mr Seneviratne says. He revealed that only 58,000 out of 120,000 hectares of arable land in the Anuradhapura District was cultivated. The continuing drought will further reduce yield to about 20,000 hectares worth of paddy.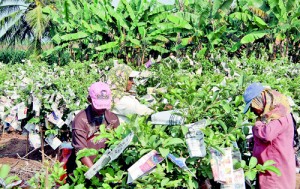 In Polonnaruwa, however, all 150,000 hectares of paddy land was cultivated. In the Ampara district, this figure stood at 80,000 hectares–again the total extent.
Paddy production has also been hit by the resistance of weeds and pests to chemicals in all government-approved weedicides and pesticides, says Mr. Rathnamalla, while the late release of irrigation water had compounded pest-control issues. Farmers who sprayed their fields in anticipation that the Irrigation Department would act on schedule were left waiting four days before the water finally came. This affected the efficacy of the chemicals, he claimed.
The fertiliser hadn't arrived on time either. Having decided to switch from chemical to carbonic fertilisers, the Government reduced the quantities usually distributed. Farmer organisations say this further affected
production.
Mr. Rathnamalla says that, this season, the release of fertilisers that had to be applied at specified intervals was delayed. Some that had to be used within the first two months of cultivation were only obtained after that period had lapsed.
Farmers in all three districts were badly affected by low prices for paddy. The Paddy Marketing Board (PMB) is yet to start buying their produce. Most cultivators worry that, if the rains do come, they would not be able to dry their paddy to meet PMB standards. Private buyers in the area are purchasing wet paddy, sometimes directly from the fields. Anyway, labour to dry the paddy is an added cost to farmers who are already burdened with debt.
So they opt to sell to private buyers at an even lower rate of Rs. 28 to Rs. 29 a kilo.
In the Ampara District, paddy cultivation has gone off reasonably well. With harvesting season, however, come elephant problems, which, some farmers say, are relatively new to Ampara. To save his crop from elephant attacks, the tenant farmer working on A.M. Anwar's paddy land reaped his harvest prematurely. At five in the evening, Mr. Anwar was running around yelling instructions to the farm hands, determined to finish harvesting the same day. To leave part of the crop to harvest tomorrow was a risk he was not willing to take.
Elephants have already attacked the bordering farmland, Mr Anwar says. When that happens, whatever remains on adjoining lands is quickly harvested. Thus Mr. Anwar had no choice but to reap the young crop.
"Around 100 to 150 elephants came to the field," he says. "The crop is still mostly green grain. It is hard for the farmers here. If the elephants didn't attack the grain, the harvest would have been ready in five days." Many farmers are worried of the domino effect of this situation and are frantically reaping their crop in the hope of saving it from destruction.
Mr. S. H. M. Musthaffa, the President of the Federation of Farmer Organisations of Sammanthurai Division, claimed the authorities were turning a blind eye to the elephant problem. He has sought the help of the Wildlife and Agriculture Departments, to no avail. He wrote to President Mahinda Rajapaksa in 2012 and his letter was referred to the Wildlife Department. When no action was taken even then, he took the District Secretary and the Wildlife Department to court. The case was amicably settled with the Department agreeing to erect a fence. But Mr Musthaffa says officials took no interest and he had now lost hope.
Ampara District secretary Neil Alwis admitted that elephants have become a problem but insisted that farmers were not harvesting their crops prematurely. He blamed them for encroaching on forest areas where elephants live and said that people sometimes stole the wires on electric fences to sell them. He said, however, that the authorities had resolved to build a fence within the next six months after holding discussions with all stakeholders.
Next week: Report on the impact
of the drop in the paddy production
Cultivators see red as debts mount, weather gods turn erratic
Sena Amaradasa (31) is toiling round the clock. He can't predict when the weather would change and he needs to harvest his paddy before the rain comes pouring down.The father-of-one from Gonagolla, Mayadunna, he hopes to sell his yield to the Paddy Marketing Board (PMB) when it opens. But his greatest worry is to get the paddy dry enough for the PMB.
"If it doesn't meet their standards, they won't buy it," he said. "I need to sell it to the PMB or I cannot get the guaranteed price."
Sena got red notices last week, requiring him to pay his residential electricity bill. He received a similar warning to redeem his wife's jewellery. Like many other farmers, Sena has pawned his and his wife's jewellery to pay for the fertilizers, pesticides and other
cultivation expenses.
Last season, his crop was caught to the rains while drying and his income was drastically affected. So he failed to redeem the jewellery in time. "I received the final letter from the bank this week," he said, dolefully. "We asked the officers there to give us twenty more days to settle the sum."
Sena also managed to negotiate a few more days with Ceylon Electricity Board employees who came to disconnect their supply. The youngest of four sons, he inherited one out of the four acres of farmland passed down from his father. Things are very different now from when his father tilled the soil, he said. Back then, it was a cost-effective means of livelihood that earned respect. Today, Sena's brothers have given up farming and moved on to other jobs.
"I have a one-year-old son and I would like to save some money for his education like every father does," he said. "But paddy cultivation cannot support us anymore. I do this because my father did it and his father before him. The Government should give us a solution to this struggle."
We get a raw deal: Farmer
After toiling as a farmer for over 40 years, S. Siripala, now in his sixties says he cannot continue. Unfortunately he gets no farmers'
pension and has not a cent to his name. Mr. Siripala living in Ampara complains that he no longer has energy required to keep cultivating.
"We work very hard but at the end of the day we don't get a profit even to afford a decent meal with proper nutrition to at least continue our work. In 1998 and 2000 a kilo of rice was sold at Rs. 11 and a cake of soap was Rs. 5.50. But now a kilo of rice is Rs. 27 and a cake of soap is Rs. 40," he compared adding that they won't be able to provide rice to the public if the situation continues.
Mr. Siripala said that private millers buy their paddy for a low price and put it to the market. Mr. Siripala is frustrated when he sees large companies manipulating the market while he is unable to demand a reasonable price for his crop,
"We produce the paddy but someone else decides on the price. We can't even recover our costs. The private companies get a profit but the farmers don't get any. We are only nourishing the rich people of this country," he added.