Where language fails, pictures speak
View(s):

The Swedish-born, half-Lankan and London-based photographer Nina Mangalanayagam whose work was shown at the Colombo Art Biennale tells Duvindi Illankoon how she used photography as a means of communicating with her extended family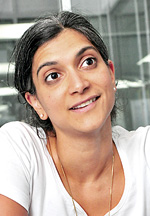 Nina Mangalanayagam finds herself in a curious world of hybridity. Half Sri Lankan, half-Swedish, the photographer doesn't quite know what it means to fit into either culture. So she turned to something she's always felt at home in to express herself, and the photo montage 'The Folds of the Fabric Fall Differently Each Time' was captured.
The Swedish-born, half-Lankan and London-based photographer first met the Sri Lankan side of the family as a gangly teen in 1996. Her cousins lived in Paris, and the young Nina found herself curiously disengaged from their world. "We should have been close," she muses. "But they spoke Tamil and French, I spoke English and Swedish. We struggled to understand and relate to each other." Nina is no stranger to feeling just slightly excluded from the world-in Europe, she is Sri Lankan. In Sri Lanka, she is a white skinned stranger. It explains her work's exploration of people's reaction to hybrid cultures.
Eventually the cousins would find a happy medium with a shared body language. Nina would grow up and find a camera, immersing herself in a world of stills. The photographer has already completed a BA and MA in the medium, and is currently in the midst of an all-consuming PhD. She's based in London with one foot in Sweden and the other in Sri Lanka and finds her interest piqued by the various facets of in-between cultures. Her extended Sri Lankan family is still a great source of curiosity for her, and when she started taking photos in the midst of preparations for a big Parisian family wedding they didn't make a murmur. "I find that it's easy to be invited into a very private world very quickly when you're family," she shares. "They would only occasionally question me, but mostly I got the feeling that they appreciated the good photos!"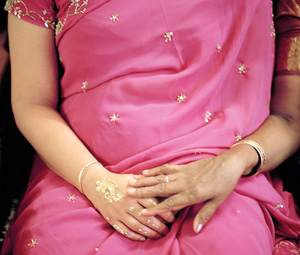 Some would be caught unawares; two little flower girls peeking through a door, a faceless woman in a gorgeous pink saree, hands neatly folded on her lap…most striking is the intensely private moment between father and daughter getting dressed for a wedding. "That's actually my sister," we're told by Nina. "I'm not sure some of the women in my family would necessarily allow me to capture them in that moment." These are the subtle differences within her family she explores with her work. In her website (www.ninamanga.com) it's explained better. "Contrary to my father who embraced Sweden to the extent that he almost lost his mother tongue, my uncle in Paris holds on to traditions, food and language from Sri Lanka…I did not meet any of my Tamil relatives until I was a teenager, and I have always had difficulties understanding them and to be understood by them. In Paris I have attempted to understand what it is that makes me and my relatives seem so different from each other."
In Sri Lanka, she finds herself pleasantly surprised by the reception. Nina's work was included in this year's Colombo Art Biennale and she was at the opening with her uncle when she was approached by a stranger. "He was my father's neighbour as a child," she smiles. "And he recognized the family from the photos. That was a good moment." And so the plus points of hybridity unfold, just like the story behind her photographs.