Isn't that sweet
View(s):

Kaushal and Tammy Baddegama gearing up to turning Candy Planet into "The no. 1 choice for high quality candy in Sri Lanka". Having two children who are crazy about gummy bears, when Kaushal finally got tired of being transferred all over the world on work he thought "candy would be sweet".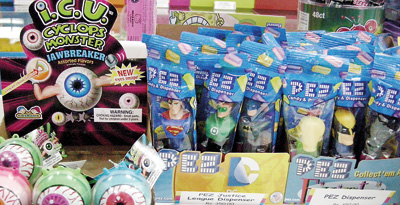 Then in December last year the colourful sweet-smelling wonder that is Candy Planet opened its door. Just a month and a half since opening day, they had already acquired regular clientele and requests flowing in from as far out as Jaffna. So it won't be a wonder if their yellow-and-pink-striped logo starts showing up at your favourite hangouts and cafes.
All Candy Planet products are imported from the US. Eighty-percent of it is made there, while the rest is made in Europe, according to the couple. Candy being candy, there's only so much of "health" you can pack into it, but Kaushal says Candy Planet is as healthy as it gets. A lot of their candy is completely fat-free and gluten-free, and soon there will be certified Halal, vegetarian and possibly sugar-free goodies as well.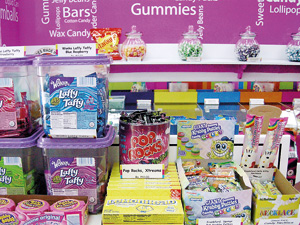 But for now they've got their gummy bears right. Peach, strawberry, pineapple, grape, blue raspberry, black cherry, red raspberry, apple, wild cherry, grapefruit, strawberry banana, orange, mango (that's the whole list). The texture is spot on, and then they've got sour gummy worms and butterflies and chocolate-coated ones too! They've got Swiss chocolates, gumballs, tootsie rolls, sour belts and Lemonheads for lemon heads. They've got Wonka's chocolates, Pixy Stix and candy canes, Adams & Brooks' Whirly Pops, Kimmie's Chocolate Rocks and Wrigley's Squeeze Pop for the toothpaste babies. Skittles and Jelly Belly Jelly Beans and sticky Dorva Tops and popping candy and popping bubblegum and pretzels on the way and … All that makes you giddy like little Charlie Bucket!
If they still don't have what you want though, they will get it for you. And if you're having a party, they will bring the store to you, and set up a mind-boggling candy buffet. They aim to find your sweet-tooth. Candy Planet is on the verge of starting an online delivery service as well. For more information log onto www.facebook.com/candyplanetsrilanka or drop into 153, Kaduwela Road, Ganahena, Battaramulla, open from 10am-8pm during the week and 11am-6pm on Sundays for a sweet sampling.