DWC circuit bungalows go online
View(s):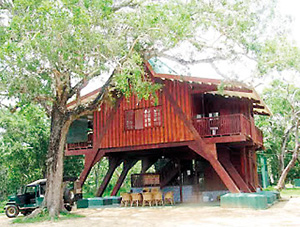 The public will be able to book circuit bungalows and camping sites of the Department of Wildlife Conservation of Sri Lanka (DWC) via the internet now. According to the ICT Agency of Sri Lanka (ICTA), concomitant with this online reservation, payment for the booking could be made through credit cards and mobile phones.
Local and foreign tourists will greatly benefit from the introduction of this e-service jointly implemented by DWC of the Ministry of the Wildlife Resources Conservation (WRC) and ICTA. ICTA says that in the past local tourists had to come to Colombo to make a DWC reservation. Even a resident of Anuradhapura had to come to Colombo to book a DWC circuit bungalow at the Wilpattu National Park which is only 38 km away from Anuradhapura. But thanks to this newly introduced e-service of online reservation, such hassle of physical visit to Colombo, queuing up, etc., could be eliminated.
While there are 44 DWC circuit bungalows and camp sites, the number of local and foreign tourists visiting wildlife parks annually exceeds 1.2 million.
To obtain the service, visit www.dwc.gov.lk or www.srilanka.lk following the launch.