Wanted: Daring and risk-taking CEOs
The Munchee family
View(s):
Are today's entrepreneurs or business professionals daring? Or would they ask their deputies or minions to handle crisis situations?
Take Mineka. P. Wickramasingha, known to friends and colleagues as "Miki" of Munchee fame. In the late 1980s, during a strike at the company, throwing caution to the winds, Mineka walked straight to a crowd of around 700 protesting employees (women and men) who gheraored the non-strikers by sitting across the road. Wickramasingha recollects "As I entered the roadway, the seated protesters stood up". He knew he had won the day, spoke to a few and suggested they come and discuss their grievances. The workers had many demands – wages, leave, etc. "I told them that a husband and wife also fights but (eventually) settles issues," he says with a smile, as he switches positions to a more comfortable posture in his seat at the expansive board room.
Mr. Wickramasingha started his career after a brief stint as a Trainee Tea Taster at Muller, Wright and De Mel. He left them and started a tea business funded by his father and his partner. When tea dust prices fell, he purchased excessively. However, even after storing for a long period, it did not move upwards. To cut losses, he jumped into delivery van borrowed from William Confectionery (his father's company) and sold tea across the island. Thereafter he joined his father at Williams Confectionery and went to England to study food technology.
The Munchee factory in Makumbura, Kottawa, is situated about 25 km east of Colombo. Visitors to Mr. Wickramasingha's fourth floor office in the factory complex will instantly be drawn to the maze of roads right below – the start of the Southern Expressway. The crisscross of roads seen from the balcony of the office reflects the new infrastructure boom. The new road network in Sri Lanka is imposing.
The sight is amazing, the transformation stunning. Only a few years back, the Ceylon Biscuits Ltd (CBL) factory was some distance away off the main High Level road, but visible as there were paddy fields that fronted one side of the road. Today the fields have disappeared and replaced with a junction of overhead bridges, traffic signals, modern railings, entry points with ticket counters, etc. Village life has given way to modernity.
Modernity … that's where CBL is also heading, innovating new varieties and also developing a few herbal biscuits and getting into new vistas in food. It is transforming into a food company from biscuit manufacture to chocolates, cakes, canning – organic and other fruits for exports, energy foods and bars, value addition to coconut products, in about ten different locations in the country and seeking to
expand further abroad, as Sri Lanka's domestic market is becoming small. Their factory in Bangladesh will be in production in a month's time. That's the drift I got sitting down for a conversation with 'Mr. Biscuit' himself.
Mr. Wickramasingha, now 78 with a trademark grey beard, still has a sharp mind and vividly remembers events precisely as they happened (typical of many others in his generation). During the conversation, the often, witty entrepreneur, a trait he shares in a book he authored ("I want to concentrate more on writing," he says), talks to Feizal Samath about his beginnings, progress of the group and his vision for the country.
Excerpts:
Beginnings:
1960s
When I returned from the UK after graduating as a food technologist, I realised that our rivals had established an imposing factory in Ratmalana. A 10 per cent reduction in price would have seen the end of expansion at the Williams biscuit factory in Dehiwela. Our efforts at expansion were thwarted by the authorities who said one (rival) factory (was sufficient.
Milk and school bun
Many complaints about adulteration in the glass of milk and the unpalatable bun given under the C.A.R.E programme prompted the authorities to request the biscuit manufacturers to produce biscuits with a hi-nutritional value in the finished product. The raw materials consisting of bread flour, soya bean oil, and full cream milk powder donated by US humanitarian NGO, under "CARE" were totally unsuitable for biscuit manufacture. Other biscuit factories refused. I saw the potential and seized the opportunity. After much research I developed a suitable biscuit for schools at Williams Confectionery, a ton a shift factory at Dehiwela. You can't make palatable and delicious biscuits from bread flour, soya oil and a high concentration of milk powder. It needed drastic change in recipe balancing.
Having accepted the challenge I continued experimenting undauntedly. After about three months of extensive research and experimentation I succeeded in producing a hi-nutritional biscuit. Samples were sent for testing to Colorado in the US, which gave a glowing report. Pilot projects to supply biscuits to Maradana and Kuliapitiya were given to Williams with the promise of the main contract. But after successful completion of the pilot projects, when the contract was to be handed over, the other manufacturer
objected and wanted tender procedure implemented. I protested that the recipe and the process was developed by us and was given to the department as a confidential document but had now become public domain. Our protests were of no avail. The other had clout.
Subsequently the tender was shared of which we retained the bulk of the contract.
Business Times (BT) – Does any of today's marketers follow (marketing and business) practices during your time? I do not know. I was hands on and strongly believe this was the way to do business.
Thereafter while idling at home after my short foray into tea, my father asked me to join him. I went to the UK to study food technology and also worked there a bit, returning with a determination to expand the business.
On values:
Mineka was hands on and started from the bottom. Today children (whose families own a business) will walk straight into the top seat but when there is a crisis, ask the 'golaya' to handle it.
His daughters (he didn't think they were interested in the business at the time) went abroad to study. The younger daughter Nishka had a stint of training at the Nestles factory outside in Pannala. She was boarded at Negombo and commuted by bus. "That was a part of the training," Mineka proudly said. Now she handles the wafers and chocolates and gets on well with other staff.
Shea, the elder one who is now the Managing Director of CBL, has taken a great deal of responsibility in addition to her involvement in the coconut project and RAL – a super-market chain. Mineka always led from the front even at a strike. The sincerity of purpose and the attitude definitely is a force that helps to reach out to workers. When you work and mingle with people you understand the problems of the workers and build an affinity-a bond.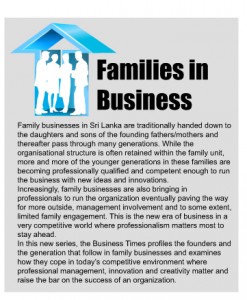 Going back to strikes, Mineka said, "On another occasion the workers were asking for an advance of two months. This was the time of queues and scarcity of essentials. They said they have small children and cannot even buy milk powder. After listening to their grievances I addressed them saying 'I cannot give you 2-months bonus'. I paused and I could see their tempers rising. Then I said definitely no for two months but I'll give you 4 months' (laughs). They were surprised and applauded me loudly."
Understanding :
"I always wanted to be No.1. I was very strict and have pulled up workers but eventually put my hand around any worker (who had been given a sample of my temper) to prove no malice. Once, some female workers were cleaning the upper floor windows, after climbing up. I reprimanded them saying "gehenu lammai ehama nevai hassirennai". When workers come to my room, I tell them to sit down and talk to them exuding warmth. My door is always open to any worker and I see them by appointment.
Everyday life:
I meditate for 25-30 minutes or sometimes more. Meditation is relaxing and can explore higher regions. How has this helped me? Change of attitude to understanding people better. People make mistakes (everyone does in life) but often these are not deliberate, unintentional. Often this calls for tolerance, which I acquired from meditation. Today I seldom lose my temper. This has also helped me keep my sanity and not go the way of some people who sit on their laurels pampering to ego demands.
On industry:
There are many problems and the confectionery industry is not vociferous enough. A good example was when the Government wanted to promote the Comprehensive Economic Partnership Agreement with India. A few industrialists including myself took to the streets. The President agreed that this agreement may not benefit Sri Lanka. But once again they are trying to introduce this. India is determined to sign it.
The future for Sri Lanka that depends to a great extent on food imports is ago-based industries with farmer participation.
On health foods:
CBL's entry into healthy snacks started with kurakkan crackers, then karapincha biscuits and now kothala himbutu (KH) biscuits – yet to be officially acknowledged as "good for diabetes'.
Our diabetes biscuit is being researched in the UK and here. We have with us a good research lab at Pannipitiya with about 20 qualified food technologists in the group that have helped us in development.
The famous Munchee brand factory commenced operations on July 28, 1968. This has been followed over the years with other brands as the company diversified into a variety of other types of confectionery. Brands such as Ritzbury (chocolates) Tiara (cakes) Lankasoy (soya meat products) and Cecil (fruit based products) Samaposha (health food) have over time become established market leaders in Sri Lanka and are finding themselves in biscuit shops and on cake stands in the world.
Expansion: We are fairly big at the moment with 8-9 factories including a factory at the Avissawela Free Trade Zone mainly for export. We are in the process of commencing production in Bangladesh. In this factory we shall produce chocolate-coated wafers and some biscuit varieties with plans for expansion. We are also looking at investing in Myanmar. A major part of that process – finding a partner, leasing the land – has been completed. Our latest product is coconut water as a drink with a long shelf life.
We are proceeding with plans for a supermarket chain because some supermarkets were crowding us out asking for increased commissions and making it difficult. So we thought we'll have our own supermarkets and have requested our distributors to upgrade their centres.
Exports:
CBL exports to 54 countries earning valuable exchange. There are many emerging markets we intend to explore aggressively. Our success in exports is due to our quality and superior products.
On the country's future, the rule of law, wealth creation:
No country can progress if the leaders are not committed, sincere and caring. Development is visible and one is proud of our highways. But greater commitment is expected from our politicians, ministers, and MPs.
How can we progress?
You must feel for the people. I feel for my workers, I feel they are part of us. We are one. I have a lot of empathy for the workers. That's the way forward. We pride ourselves as a 'family of one – Munchee powla'
BT: If Sri Lanka had a system driven by values, where would the country have been in the post war period (at this stage)? We would have definitely done much better. We have the capacity to undertake anything. I remember during Sirima Bandaranaike's regime in the 1970s when there were just a few cars as imports were restricted. Government buses were kota uda. But despite the odds the cars ran without locally made spare parts and other needs. It was ingenious talent of Sri Lankans that ensured these cars ran against such odds. The problem today however is that Sri Lankans don't have a 'Kekuma'… (intense patriotism).
Future of businesses:
I have told many leaders and officials that Sri Lankan businesses need to go abroad, but that thinking is not there. What can you do here? The market is small. We have to think big, think international…
My life:
I watch a lot of cricket, read a lot. I want to resume writing again. I wrote a fictional tale of exposure "E-danda" – the awakening of insurgency through a JVP mouthpiece. I would like to write more short stories. My thin collection of short stories Playmate won a literary prize for the short story category.
Sustainability and professionalism key to good business
Sustainability of a business organisation is important – whether it is run by the founding family or a set of professionals, says Sheamalee Wickramasingha, Managing Director at Ceylon Biscuits Ltd (CBL).
Asked whether her son, now 12 years, would join the business (when he grows up) to continue the family involvement, she said:
"I have no expectation from my son. He must be allowed to decide his future path. Today's world is not about family businesses; it is about sustainability and continuing the organisation with the right people and the right professionals whether it's the family running it or someone else."
In a brief interview, Ms. Wickramasingha shares some thoughts on the business and responds to questions from the Business Times on her work and the future of family businesses.
Excerpts:
I joined the family business in 1991 as a food technologist. Wanted to do different things but after graduating abroad in food technology. I was interested in returning to the family business.
I loved and had a passion for research and wanted to do my PhD. However if I had continued in my PhD (I completed one year) I may have ended in the research field or in academia and not at CBL.
My interests are in the functional aspects of food and health foods, etc. I took a break some time back and studied nutritional medicine in Australia. This is using diet and dietary supplements to treat ailments.
CBL has a range of health food products. Consumers are aware of food and the ingredients that go into it. Young mothers in particular are vigilant about the food they eat for them particularly to ensure their children are fed healthy food.
I went through many phases in the company and ended up in the board in 1996. CBL's future is in diversity of our product. We need to look outside as the local market for biscuits is saturated. Our business is based on people eating good food and we want to maintain that reputation.
On a vision for the future:
Prosperity for the country and a desire to grow (into a great nation)! Sri Lanka has a great opportunity to grow but its development must be modeled on the lines of a country with a small land base. We should not drive development the way countries in Asia with a large land base have done. It would not work; we have limited land and strategies for growth must take this into consideration.