Who is playing the doubles game?
View(s):

The new trend that has evolved after John McEnroe's era of the 80s and early 90s, is that the top ten singles ranked players in their prime, have stopped playing doubles and mixed doubles. Now, for most players, doubles is to extend their Tennis careers after their prime time in singles. Others in doubles are those who fail to get-up past 200 in the world rankings. This is the world scene and in the local-Tennis of many countries, doubles and its dexterity and artistry have almost ceased to exist.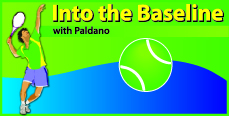 These new trends have made doubles less attractive to spectators, media and to event organizers. Especially the 2nd level event organizers want their obligation to doubles removed from their event franchise.
The Bryan brothers of USA currently ranked No.1 are well known for their doubles, only. For Bryan twins doubles is their bread and butter so they even took on the Tennis event organizing bodies into the court room for a legal show down. Tennis-world knows the contribution of doubles as an event to the game. It being not attractive as an event is the 'issue'. Many moves have been set into motion to change the status quo of doubles and mixed doubles. Attractiveness of doubles was never in question before. The 'issue' popped up when the Association of Tennis professionals [ATP] for men and Women's Tennis Association [WTA] were formed. Since then mostly men and women do not play at the same venue and the emphasis is on the singles has been overwhelming. What more, every match is been televised. Even today apart from the Grand-Slam events and a few major's men and women do not come together.
New Trend
Tennis has become 'Show-court' activity. Tennis a few decades ago was primarily a participatory activity with some attractive events.
Media interest and hefty prize money has changed the entire scene. Doubles as a game has not evolved to be a prime time sport for the media. With the absence of the big names, media benefits are lost. This is a major deviation from the competitive Tennis of the past. Doubles was attractive when it featured the best singles players of the time in all events.
Wimbledon doubles winners in 1884 the Renshaw brothers were also the singles winners. This trend existed well into the 1990s. John McEnroe of USA with Peter Fleming won many doubles titles. Before them, the Australians Rod Laver, Lew Hoad, John Newcomb and Roy Emerson and others who were great exponents of singles, bagged over 50 doubles titles between them. Doubles in Australian-Open began only in 1905 and the French-Open did not have doubles till 1925.
Who is playing
Recent awareness towards the plight of Doubles and Mixed Doubles has set things in motion to change the approach towards these events. However it may not change for a while. The question, as to who is playing doubles, is worth pondering over. Vijay and Anand Amritraj of India played Wimbledon doubles for a long time. They still play in the master's invitation event for veterans. There are six Asians in the top 100 of the men's doubles ranking and only one Asian in the men's singles at number 100. Of the seven, six are Indians. Paes, Bhoopathi and Bhopanna were in singles before. Taking this as the key, it is to our advantage to look into the development strategy of our players. As for mixed doubles, only the Grand-Slam events have the scope to conduct them right now. That makes 'Mixed' a difficult event to bring back to old glory. The Chinese women and Sanya Mirza of India are making themselves prominent in Women's doubles and this is bound to get bigger soon.
Asian Development issue
In our development we have been trying with 'singles-first' approach for a long time and this is not working for us in Asia. Almost every development is now working with 'squad system'. It is the worst development system for singles. A change to this approach has to come if we are to develop world beaters. All squad players are baseliners. That is mastery over 3rd game situation of Tennis only and makes us miss out the mastery of service situation, return situation and net situation.
This limitation is the biggest disadvantage Asians experience. The power based base line game of today needs 6'3" frame and weight of 175 to 180 in muscles at the age of 19. Asians rarely have this. We are light, fast, good stroke makers and have excellent touch. In fact we have exceptional hands. Change the approach and develop for doubles first where all our advantages are the dominating features of the champions. With that as background we are bound to go up in doubles and pave our way into singles. What more we will go home without broken backs which has become a common syndrome in baseliners approaching 30. Two of the great players in the last two decades Roger Federer and Pete Sampras played doubles and have an impressive record.
Davis Cup record
Mastery in doubles permits Doubles and Mixed doubles. It also permits different team making possibility. If we take a look into our Davis Cup record we have some interesting statistics in Doubles. Douglas Scarnival and Douglas Fonseka played Wimbledon. Other famous combinations are Bernard Pinto and Rupert Ferdinands, Rohan De Silva and Jayendra Wijesekera, Arjun Fernando and Sujith Fernando. Rajeev Rajapakse and Harshana Godamanne in recent times have left an impressive record at international level. Their names appear in 100 years of Davis Cup book published by ITF- London.
Right now Doubles is in trouble locally and internationally with struggling signs of revival. Locally different emphasis need to evolve for our player development approach. We have been going with singles and all we have are age group winners in the closed local scene. May be we will have to change the emphasis to doubles first strategy in development. Also we must not be 'too-excited' about players till they are 19 and winning international 'open-events'. Then they are worthy of sponsorship. There is a Chinese saying- 'What is the use of helping a chicken struggling to come out of the egg. If it does not have that strength it will not survive anyway'. It is a hard one to swallow in a world where we treat age group winners as celebrities!
George Paldano, former international player; Accredited Coach of Germany, ITF and USPTR; National, Davis Cup and Federation Cup Coach–gptennis.ceylon@gmail.com-