Randev in the lead, but others closing up
35th Bata-the Sunday Times Most Popular Schoolboy Cricketer of the Year 2014
View(s):
Royal College allrounder Randev Pathirana continues to lead after five weeks of the 35th Bata-the Sunday Times Most Popular Schoolboy Cricketer of the Year 2014 competition.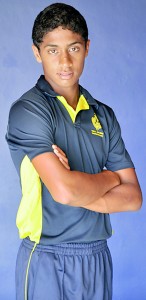 Pathirana moved past the 4000 mark but others below him also have made rapid progress during the ended week.
Randev added 1171 votes to his tally but what could bother him is the pace his closest rival, Akila Lakshan of Royal College Panadura, making. Lakshan is closing in to become a threat to Randev, by adding 2057 votes to his total, and is just 216 votes behind the leader.Lahiru Wickramasinghe of De Mazenod College Kandana is also one who has made swift progress. He added 3326 to his total and still holds on to the third slot while possessing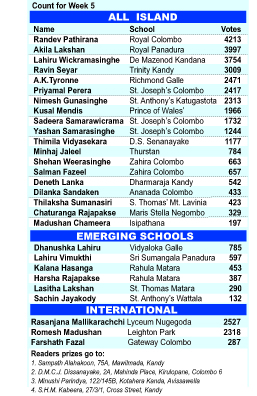 the ability to topple the top two in time to come. Ravin Sayer of Trinity College Kandy is another successful contender. He swapped places with A.K. Tyronne of Richmond College Galle and moved up to fourth place. Among others who were able to make a huge impact in the competition were Priyamal Perera, Numesh Gunasinghe, Kusal Mendis, Sadeera Samarawickrama, Yashan Samarasinghe and Thimila Vidyasekara. One of the notable changes occurred during the week was Madushan Chameera of Isipathana College replacing Devin Pathmanathan of Royal College at the bottom.
Danushka Lahiru of Vidyaloka Vidyalaya Galle too manages to hold on to his place in the Emerging Schools segment as the leader but his followers are posing a close threat. Lahiru slowed down a bit while others in the race closed in the gap. Other contenders remain at their respective places while Sachin Jayakody of St. Anthony's College Wattala joined the fray.
The leadership changed hands for the fourth time in the International Schools category, as Romesh Madushan of Leighton Park sneaked in to claim the top spot. Rasanjana Mallikaarachchi of Lyceum Nugegoda dropped down to second place but chances are open for him to make a lasting impact. The difference between the two contenders is a mere 209 votes.
Coupons of the 35th Bata-the Sunday Times Most Popular Schoolboy Cricketer of the Year 2014 will appear on Wijeya Newspaper's dailies, the Daily Mirror and Lankadeepa and also its weekend English issue, the Sunday Times. Readers will be able to send in as much as coupons in favour of their favourite schoolboy cricketer until end of May.