I am sailing — a la Bolling
The first to attempt for a round trip on a non-motorised boat
View(s):
Jeremy Bolling has made a strong case throughout his life that he is more comfortable around water than he is on land. Whether it is swimming in it, windsurfing through it or sailing on it, he just can't seem to get enough of its aquamarine brilliance. Now he is looking to make his final, salient argument, which will quite literally thrust him into uncharted waters: a historic trip around Sri Lanka in a sailboat.
Jeremy will not be alone with his 14-foot boat on this expedition, entitled 'Sail Sri Lanka', but will be its primary constant, functioning at the helm of a rotating crew. This will place him in the midst of a slew of physical and mental obstacles, the least of them being the fact that he will be away on the ocean for seven weeks from February 19.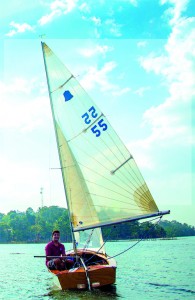 "This is a lifetime dream for me and I was finally able to go through with it because of the dawn of peace. It will be the first time anyone will sail around Sri Lanka in a non-motorised boat. So it's quite a challenge," Jeremy says.
"We have to try and manage the two monsoon weather conditions to the southwest and northeast. At the moment the northeast monsoon is prevailing which keeps the west coast calm, hence the reason we want to start off in February and get to Kankasanthurai.
"And then we will wait for a call when the east coast is settling down and come along it. After the southern Indian Ocean has calmed down, there is a two-week window of opportunity through which we will come back to Galle by April 6."
In a nutshell, Jeremy will be logging 20 nautical miles a day, roughly four to six hours of sailing, and stopping 28 times during his journey. He says that because he and his crew will be carrying out the voyage on a sailboat, they will need to drop anchor each night and because of the vessel's vulnerable structure they cannot do this while on big, rolling waves.
The challenges existent in such an undertaking are immense. But Jeremy is a sailing vet who has competed in and conquered a raft of sailing regattas. The other members of his crew, comprising Rohitha Amarasinghe, Krishan Janaka and Rob Moor are no slouches in the sport either.
Rohitha has represented Sri Lanka and sailed in the GP14 World Championship while Krishan is an Asian Games bronze medallist and Rob a GP 14 sailor at the Ceylon Motor Yacht Club.
They are also well prepared, having worked out things to the finest detail over a month after getting Ministry of Defence clearance. Furthermore, they will be principally supported by Land Rover, who will also go about Sri Lanka promoting the initiative through a series of events. If things do go awry at sea, the rescue boat which will trail Jeremy and his crew will be close at hand to rectify any technical hiccups.
Jeremy says that he and his team will be more or less in the clear once they get to Tangalle. However, the challenge lies in getting there and doubtlessly so too the adventure. But this is no macho man vs. wild endeavour for Jeremy and his crew. At the forefront of this record-setting feat is a plan to promote the sport of sailing in the country. To better achieve this, Jeremy will be adding a unique dimension to Sail Lanka.
"Anyone who knows sailing or is physically fit can sail a leg. We and Land Rover are trying to bring more Sri Lankans into sailing. We also want to use it to encourage tourism in the country and push for major competitions to be held here. "