Ad 'B' pluck Wijeya cricket plum
View(s):

The Advertising Department 'B' secured the D.R. Wijewardena Challenge Trophy beating Daily Mirror by 7 wickets at the Inter-Department Cricket Tournament of Wijeya Newspapers played at the Shalika ground in Narahenpita last Sunday.

Batting first Daily Mirror made 77 in 7.5 overs and Advertising 'B' reached the target by scoring 82 runs for the loss of 3 wickets in 6.5 overs to win the championship.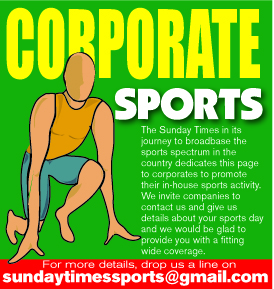 Advertising 'B' finished on top among a total of 26 teams who took part in the day-long tournament, which was filled with great fun and camaraderie among the colleagues of Wijeya Newspapers.
Vijaya Wagarachchi led the victorious Advertising 'B' team while Daily Mirror was captained by Supun Dias. Wagarachchi played a captain's knock to steer his side to victory with a quick-fire 31, after claiming two wickets earlier on.
Kalpa Solangarachchi hammered an unbeaten knock of 33 for the winners while Waruna Wanniarachchi picked two wickets. But the cynosure of the final was the knock of Dharshana Sanjaya, who clobbered 63 inclusive of nine fours while the rest of the Daily Mirror batting line up fell apart. Amila Banneheke took three wickets while Wagarachchi and Sidath Nanayakkara claimed two scalps each.
Advertising 'B' became hot favourites to win the title, after ousting defending champions Hokandara 'B', who had won the championship for six consecutive years, in the semi-final. Daily Mirror beat Transport Department by 33 runs in the second semi-final to reach the final. However Hokandara 'B', led by R.P.G. Wasantha, went on to beat the Transport Department, led by G.G.T. Viranjana, by 32 runs to win the Plate championship. The Bowl championship was won by Hokandara 'A' led by Nadeeka Kiriella.
Gayan Sooriyarachchi of Type Setting 'A' was adjudged the Best Allrounder of the Tournament. Sidath Nanayakkara of the victorious Advertising team won the Best Bowler's award while Thilina Dilshan of Daily Mirror won the Best Batsman's award. The tournament was sponsored by Mobitel. – BM
Pix by M.D.Nissanka
Results:
Semi-final 1: Advertising 'B' beat Hokandara 'B' by
6 wickets
Hokandara 'B' 53 for 3 wickets in 5 overs (K.R. Menaka 35, Danushka Hewavitharana 1/1, Sidath Nanayakkara 1/9)
Advertising 'B' 54 for 4 wickets in 4.5 overs (Vijaya Wagarachchi 10, Kalpa Solangarachchi 19, E. Sampath 1/3, K.R. Menaka 1/14, N.H.J. Pushpakumara 1/15, Mahesh Darshana 1/18)
Semi-final 2: Daily Mirror beat Transport by 33 runs
Daily Mirror 69 for 1 wicket in 5 overs (Darshana Sanjeewa 11, Thilina Dilshan 31n.o, Waruna Wanniarachchi 25n.o, Ranjith Gamage 1/16)
Transport 36 for 3 wickets in 5 overs (K.G.S. Lakmal 18, Darshana Sanjeewa ½, Waruna Wanniarachchi 1/5, Lakmal Sooriyagoda 1/5)
Final: Advertising 'B' beat Daily Mirror by 7 wickets
Daily Mirror 77 all out in 7.5 overs (Darshana Sanjaya 63, Amila Banneheke 3/23, Vijaya Wagarachchi 2/22, Sidath Nanayakkara 2/23, Danushka Hewavitharana 1/8)
Advertising 'B' 82 for 3 wickets in 6.5 overs (Vijaya Wagarachchi 31, Kalpa Solangarachchi 33n.o, Waruna Wanniarachchi 2/20, Thilina Dilshan 1/13)