Wallapatta agarwood the new illegal million-rupee racket
By Malaka Rodrigo
View(s):
An attempt to smuggle out wallapatta agarwood worth Rs. 12 million was prevented by vigilant Customs officers last week.
The offender had 16.8kg of the substance concealed in his baggage, Samantha Gunasekara of the Customs Biodiversity Protection Unit said. It had been cleaned and considered to be grade 1 quality.
The offender was at Bandaranaike International Airport to board a Bangalore-bound flight. Preliminary investigations revealed that he was only a carrier, and investigations are underway to find the source of the agarwood.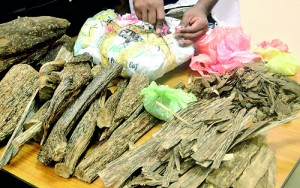 Agarwood is a product of the wild tree, wallapatta, and it is illegal to own or take out a forest product without permission but because of its high value criminals collect and export it illegally.
Wallapatta is scientifically classified as a sub-canopy tree growing in wet zone forests as well as in home gardens in these areas. The tree creates a resin called agarwood in its core as a reaction to a fungal infection, and this is used as a base for perfumes.
Perfumes produced using agarwood are expensive because of the resin's scarcity, so a wave of illegal felling of wallapatta has been reported, several dozen cases from different parts of Sri Lanka in the first weeks of 2014.
In the latest case, Morontuduwa police arrested three men for cutting down a wallapatta tree and transporting in a van. Because the agarwood has to be exported illegally, stringent measures have to be put in place to nab the offenders who mastermind this racket.
Only some wallapatta trees affected by fungi manufacture the agarwood resin. Since there is no way to detect whether a wallapatta tree is secreting agarwood, trees are being felled indiscriminately for quick profits.
Prof. Nimal Gunatilleke, who has studied the growth of wallapatta, warns that extensive removal of large mature trees could affect the survival of wild wallapatta trees, already categorised as "vulnerable" to extinction on the National RedList.
Prof. Gunatilleke points out that investigation of the tree's reproductive ecology and low-cost propagation methods of wallapatta were needed to restore the growth of the tree in the forest and to increase domestic growth to reduce pressure on this rapidly dwindling natural resource.
The Director General of the Department of Wildlife Conservation (DWC) said regulations to protect wallapatta have been drafted. He said the cultivation of wallapatta would be encouraged under stringent monitoring conditions.