Taxes go up in flames as SLAF copter help costs Rs.260,000 an hour
By Nadia Fazlulhaq
View(s):
Travellers, drinkers, hunters and land-grabbers are causing fires in the Central Hills by carelessly throwing down cigarette butts, leaving without dousing campfires, cooking in fire-prone areas, and lighting fires for fun or to trap wild animals or claim land, say forest and disaster management officials.
This year saw about 20 such fires- among them several widespread fires that needed the involvement of the Air Force. More than 500 acres were burnt during this period.
The Nuwara Eliya District is highly prone to such fires followed by Badulla, Matale, Kandy, Ratnapura and Moneragala districts.
Areas that reported fires recently include Nallathanniya in the Adam's Peak forest reserve, Knuckles forest reserve in Matale, Pattipola, Labookelle, Horton Plains, Norton Bridge and Devon Falls area in Nuwara Eliya, Ella, Rawana-Ella, Ohiya in the Badulla district, Hantane in Kandy, Muthurajawela wetland area, Balangoda in Ratnapura, Passara and Welimada in Badulla.
Last week, about 50 acres were set alight in the Dimbula Pathana area in Nuwara Eliya near the Devon Falls.
Similarly, more than 30 acres were destroyed in the Nallathanni area in the Sri Pada forest reserve.
The air force, police, army and police Special Task Force were called in to help put out a fire in the Nallathanni area in the Sri Pada forest reserve, but 30 acres were destroyed before the fire was brought under control. A Bell 412 helicopter from the Ratmalana SLAF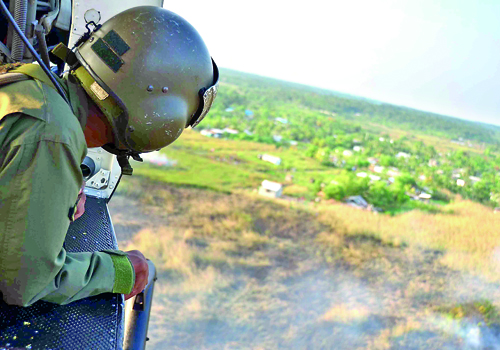 Base used Bambi Buckets to collect water from Maskeliya Reservoir, and had to make 16 circuits before the fire was brought under control.
The end of January also saw a raging forest fire in wetland Muthurajawela. That fire was put out only after 34 drops of aerial water spraying from Air Force's Bell 212 helicopter carrying 700-litre Bambi Buckets.
Another fire that broke out in the Dambagalla Forest Reserve also destroyed about 50 acres and, similarly, a fire broke out on a mountain in Labookelle that police and residents managed to bring under control.
Conservator General of Forests, Anura Sathurusinghe, told The Sunday Times that forest fires in Sri Lanka were caused solely by human activity.
The fires were caused by people throwing cigarette butts out of trains or while hiking in forests, farmers burning dead grass in order to have fresh grass for cattle or new cultivation, the burning of discarded debris by workers on railway tracks and blazes lit by hunters in order to get wild animals to the open areas.
Local communities in the areas too believe that a fire in the forest will result in rains and end droughts, he said, adding that forest officers have been instructed to create awareness among locals regarding prevention of forest fires. He said forest plantations,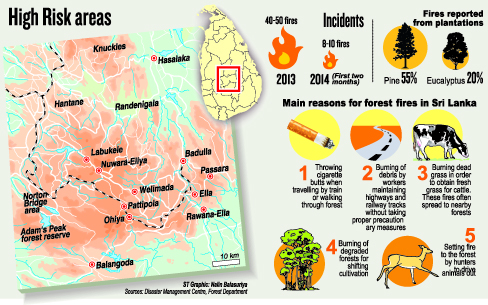 especially eucalyptus and pine plantations were at risk and fires there spread within minutes, leading to economic loss.
Mr. Sathurusinghe said February to March was a fire season and, during the first three months of the year, the Central areas experience a dry spell. From June to September there is a long dry season.
He said the government was planning amendments to the Forest Conservation Ordinance to increase fines and punishment for those causing forest fires.
At present reserve forests and conserved forests come under this ordinance and are protected by the Department of Forest Conservation.
Disaster Management Centre Spokesman Sarath Lal Kumara said that disaster management unit officers in the respective areas had been instructed to investigate fires.
"There is a possibility of fires being lit by those involved in cannabis cultivation or timber theft. In scenic areas such as Nuwara Eliya and the Sri Pada reserve the blazes are mostly caused by tourists, travellers and pilgrims lighting fires. In Ohiya and Pattipola areas the main reason for fires are cigarette butts discarded while travelling on trains and hiking," he said.
He said from April to September, about 150 fires are reported, and these have resulted in the destruction of thousands of acres.
"Setting fire to a forest reserve in also a non-bailable offence and suspects can be arrested without a warrant," he said.
Air Force Spokesman Andrew Wijesuriya said the Air Force is called in when there is no access by road to control the fire.
"There is a high cost involved in controlling fires. The Air Force bears a flying cost of $2000 per hour (Rs. 260,000)," he said.
He said that Bell helicopters could carry up to 900 litres while an MI-17 could carry up to 3,000 litres.
 No butts
Nuwara Eliya Government Agent D.P.G. Kumarasiri said measures would be taken to warn local and foreign train travellers against throwing cigarette butts to the rail track and forests.
"We will discuss this with the Railways Department to announce at the main railway stations starting from Fort," he said.
Mr. Kumarasiri said that, in order to prevent forest fires from spreading, the 'fire break' technique was being followed.
"As there are more forest fires during the Nuwara Eliya holiday season, in some forests we are creating a gap so that the fire cannot cross. The barrier is also meant to stop or slow the spreading," he said. The GA said that it is not a satisfactory method as it is not feasible to dig up forests and thereby cause damage.