Ruling party leading offenders in poll violence and violations
By Chamal Weerakkody
Monitoring groups charge police biased when acting against some violators
View(s):
With nominations closing last week for the upcoming Western and Southern Provincial Council elections, polls related violence and violations of election laws are on the rise as candidates of all hues step up their campaigns, police and polls monitoring groups said.
Poster campaigns, pocket meetings where candidates promised financial and other material benefits to voters if they are voted in are all part of the campaign, they said.
According to election monitoring organisations, Campaign for Free and Fair Elections (CaFFE) and Peoples Action for Free and Fair Elections (PAFFREL), ruling party candidates and their supporters have been involved in more election related violence and violation of polls laws than any other party.
CaFFE Executive Director, Rajith Keerthi Tennakoon said complaints relating to four cases of election violence and 156 election law violations have been reported so far to the Elections Department.
According to CaFFE statistics the highest number of complaints, 75, is related to illegal election propaganda campaigns while 68 complaints are related to instances of misuse of public property—including the use of state vehicles, properties and the deployment and manipulation of state employees.
The most number of election-related complaints, 53, were reported from Colombo District. Twenty four incidents have been reported from Kalutara District and 18 from Gampaha District. Matara and Galle Districts reported twelve incidents with seven being reported from Hambanthota District.
In one of the more serious election related incidents shots were allegedly fired last Sunday at a vehicle belonging to United National Party (UNP) candidate for Hambantota District, Atula Senaratne.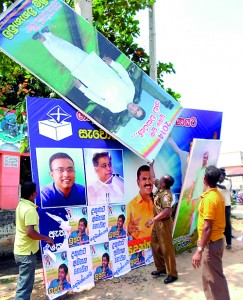 Mr. Senaratne lodged a police complaint stating that a group who came in a vehicle, shot at his cab which was parked outside his residence at Aranwala Road, Beliatta. He also complained that he had received threats prior to the shooting incident.
Meanwhile Southern Province UPFA candidate D.V. Upul who was arrested along with a supporter by the Middeniya police for assaulting two UNP members near the Thalawa Hospital were released on Rs. 100,000 personal bail each after being produced at the Walasmulla Magistrate's court.
Former Southern Provincial Councilor and UPFA candidate Ajith Prasanna who was arrested on charges of unlawful assembly and obstructing police was released on two personal bails of Rs 500,000 each by Colombo Fort Magistrate.
Mr. Prasanna was arrested last Sunday by Galle police while he was at a private hospital in Colombo. A former army major, he had got involved in an altercation with the police on February 6 in Galle town during a procession following the handing over of nominations.
He had been waving to the public attired in a military type uniform when he was stopped by the police for the illegal procession and assault of a police officer for obstructing the parade. He was charged with the assault of a police officer, being part of an unlawful assembly, leading an unlawful procession and wearing military type uniform.
In another incident related to election violence reported from Panadura supporters of a UPFA Kalutara candidate Nandana Gunathilake damaged the private property of a resident and had threatened and frightened the householders by lighting fire crackers. The owner had lodged a complaint with the Elections Department.Mr. Tennakoon of CaFFE said although the Elections Commissioner had requested all candidates to strictly adhere to election regulations when conducting propaganda campaigns many candidates have failed to do so. He added that a candidate who failed to follow instructions outlined in the Elections Act or by the Elections Commissioner was liable to be penalised under the penal code.
He charged that the ruling party was abusing its privileges and using its assets to support election campaigns of party candidates. Furthermore he added that although some ex-provincial council ministers had handed over their official assets, such as state vehicles, they still used their influence to use these assets for election campaigns. He was also critical of the ruling party for using public transport to promote election propaganda, for instance pasting posters of their candidates on rear mirrors of buses belonging to Sri Lanka Transport Board (SLTB)
He also criticised the police for being biasee to ruling party candidates and for delaying in acting against violators from the ruling party.
PAFFREL Executive Director Rohana Hettiarachchie said the Elections Commissioner should be given powers to take stern action against senior government officials who indulge in election law violations. Citing an incident last Thursday where a senior government official was the chief guest at an event to launch the election propaganda campaign of a main candidate of the ruling party, Mr. Hettarachchie said government officials should refrain from such activities if a free and fair election was to be held. He also hit out at the police for failing to remove the posters of main and influential candidates.
Mr. Hettiarachchie also pointed out that election rules and regulations should have changed when the election system changed from an electoral voting system to a preferential one, which allows candidates to expand their campaigns from the electorate to the district.
Meanwhile prominent party candidates also voiced their opinion on the polls campaign. UNP Colombo district candidate Srinath Perera said all political parties should conduct their election campaigns within the framework of the election law. He charged that ruling party candidates had failed to stay within election regulations when conducting their campaigns. He said if the now defunct 17th amendment had been in force the Elections Department and the police would have had more independence to conduct a free and fair election.
The JVP Colombo District chief candidate K.D. Lal Kantha said the people should have the opportunity and be responsible enough to elect the most suitable candidates to represent them at the provincial level. He said elections will never be free and fair until the Government re-establishes the independent Elections and Police Commissions.
Democratic Party (DP) General Secretary Ananda Manawadu complained that localauthorities have not granted them permission to conduct their election meetings. He also said the Elections Commission should take steps to prevent former Western and Southern Provincial Council members from using state property for election propaganda.
However, a UPFA Colombo District candidate Upali Kodikara said the election law should be changed in a manner that candidates can broaden their campaigns without violating election laws. He said the current law was restrictive and prohibited candidates from reaching out to people in their respective electorates.
Meanwhile The Elections Department said the use of the national flag, symbols and religious flags are prohibited in election campaigns. Images of respective party leaders can be used at the candidate's election office but it cannot be displayed anywhere else. In addition candidates who were former military officers cannot wear their respective uniforms or insignia in any election activity.
Police Spokesman Senior Superintendent of Police (SSP) Ajith Rohana said candidates who wear military uniforms or military-related outfits during their election campaigns would be produced in courts and the offenders could face two years imprisonment.