Road terror: The wheels of death claim 6 lives a day
By Nadia Fazlulhaq
View(s):
More than 2,300 people were killed in road accidents last year averaging six deaths a day, latest statistics reveal.
About 20 road deaths in the first two weeks of this month alone indicated no letup in the trend.
Earlier this week, five people, including two women and two children, died when their van hit the rear of a tipper lorry on the A9 road in Mankulum, Killinochchi.
In another incident, a nine-year-old girl died and another four were injured when their three-wheeler collided with a speeding lorry in Ratnapura.
A 35-year-old and a 39-year-old died and eight were injured when a lorry carrying political party supporters went off the road in Ratgama, Galle.
Twenty nine people were injured when the bus they were traveling in went off the road in Hatton.
A 29-year-old and a 17-year-old died last week after their motorbike collided with a tipper truck in Wanathawilluwa. In another incident a 25-year-old man died when his motorbike collided with an SLCTB bus in Kiriella.
A 67-year-old woman was hit by a private bus while she was waiting near the Balangoda bus stop on the Colombo-Badulla main road.
In Madampe, a 10-year-old boy was hit by a speeding tipper truck while he was crossing the road.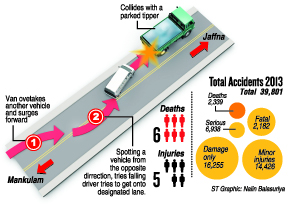 According to Traffic Police 2,339 deaths due to road accidents and 39,801 accidents were recorded last year.
Nore than 2000 serious accidents occurred last year causing more than 6,000 serious injuries. There were also 14,425 accidents that caused minor injuries.
A senior Traffic Police officer said ignorance of road rules, negligence and speeding continue to be the reasons for the excessive number of accidents.
"This country does not have traffic and road safety related education starting from school-going ages. Most of those applying for driving licences only focus on obtaining the driving licence, by repeatedly studying past papers. There is no genuine learning of road signs etc," he said.
He said that, this year, there are plans to instal more CCTV camera's after monitoring accident prone areas, as well as to bring in equipment to detect drunk drivers.
He said road discipline is violated even on highways.
"Some drivers wear the belt only at entry and exit points. There have been accidents when Maruti-type cars are driven at speeds of 140 kmph," he said.
A majority of those who die on the roads are between 18 and 25 years old.
The Sunday Times learns that about 600 driving licencse tests are conducted daily.
A former Deputy Inspector General (DIG) of Police (Traffic) actively involved in drafting regulations regarding road safety, said that the issuing of driving licences should be improved.
"At present, the practical test is only from Werahara to Borelesgamuwa junction. There is a need to expand it to Colombo City and include a night driving test. It is also important to give at least half-an-hour for each applicant. There aren't enough examiners. There is also a need to have training on road rules as well," he said, adding that, at present, drivers have no access to the Motor Traffic Act.
He said there was a need to deploy knowledgeable traffic officers to each district, to continue with training.
He added that there was a need to implement the point system with the present computerised driving licences.
"If the points system is introduced, there will be a drastic reduction in the number of traffic offences. Drivers will know that if they commit more than five offences, their licence will be suspended for one year," the former Traffic DIG said.