Engine drivers' strike to continue with retired personnel poised to operate trains
By Leon Berenger
View(s):
Striking locomotive drivers are set to continue their trade union action into the new week if their key demand is not met, but authorities yesterday refused to budge from their position, and instead sought the services of retired personnel to operate a skeleton service.
Senior railway officials said the strikers had indicated that their trade union action will continue if their demand is ignored.
The striking driver's from the Locomotive Operating Engineers and Drivers' Union (LOEDU) are demanding the immediate re-instatement of a union official who had been removed from his posting following a howl of protests from other railway trade unions.
The dispute broke out after Transport Minister Kumar Welgama had sanctioned the promotion of an engine driver to the position of an Assistant Superintendent or Railway Supervisor leading to protests from 30 other trade unions within the Department.
Minister Welgama was later forced to cancel the appointment following discussions with the trade unions but this led to trade union action by the LOEU who are supportive of the promotion, Sumithipala Manawaduwa of the All-Ceylon Railway General Workers' Union (ACRGWU) told the Sunday Times.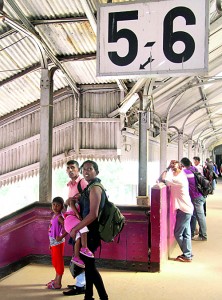 Such ad hoc appointments have been taking place for some time, often with the approval of the Transport Ministry, and a situation such as this was bound to take place sooner or later," Mr Manawaduwa said.Minister Welgama said that the man will not be re-appointed, and that, retired train derivers had been called up in a bid to get the service back on track."I will not back down from my position, whatever the demand may be, and the strikers ought to take serious note of that. In order to bring the train services back to normal, we have pressed into service retired drivers, and the situation should return to normal by tomorrow," Mr Welgama said.
Meanwhile, thousands of commuters were left stranded at key railway stations late Thursday evening in most parts of the country, including Colombo Fort, Maradana, Galle, Matara, Kandy, Anuradhapura, Badulla and elsewhere, following the 'wild cat' strike, where some 90 per cent of the engine drivers pulled out without warning.