Colombo schools threatened with action over dengue
By Nadia Fazlulhaq
View(s):
The Colombo Municipal Council (CMC)'s Health Department is to take strict action against schools that have mosquito breeding spots on grounds that put students' lives at risk.
Half the schools in Colombo have mosquito breeding places, a Health Ministry study has found.
Chief Medical Officer of CMC, Dr. Pradeep Kariyawasam said most of the 475 dengue cases reported in the city are school students from state, private and international schools.
"The CMC has filed cases against 11 school principals and will not hesitate to take action against school management," he said.
Out of the total 3,817 cases reported in January and mid-February this year, Colombo district leads with 1,420 cases. Colombo city has 475 cases while other areas in Colombo district have recorded 945 cases. Last year Colombo district had more than 10,000 case of dengue.
"There have been many cases and deaths due to negligence in the part of school authorities. Principals and managers should not be concerned only about the finances and education but also the health of the children. Dengue is one of the leadi ng causes of child deaths," he added.
The CMO said regular cleaning should take place and schools should follow a zero policy on the discarding of containers such as yogurt and ice-cream cups and polythene "sili sili" bags that could end up holding rainwater and mosquito larvae.
"Fumigating and fogging are temporary solutions. Schools should get labourers to clean gutters and tree holes that are main breeding spots in schools," he said.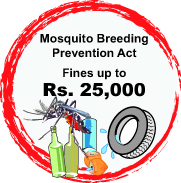 Mr Kariyawasam said school students appeared to be unaware of "shramadana", a collective effort by students, teachers and parents to clean school premises.
"Schools should build a rapport with the surrounding neighbourhood and make sure both school and the neighbourhood are not breeding mosquitoes," he said.
Nurseries, day-care centres and dhamma schools were also mosquito breeding spots.
"Some tuition centres are air-conditioned but the gardens are full of blocked gutters or discarded containers. So when doors are opened mosquitoes enter the classrooms," Mr Kariyawasam said.
According to the Health Ministry high-risk dengue areas in the Western Province include Dehiwala-Mt. Lavinia, Kaduwela, Kolonnawa, Kotte, Maharagama, Moratuwa, Nugegoda, Homagama in the Colombo district and Biyagama, Gampaha, Ja-ela, Wattala, Mirigama, Negombo Municipal Council and Wattala in the Gampaha district.
Most of the leading national schools in the country are in Colombo, with thousands of students in hostels as well.
According to the Department of Census and Statistics the Colombo district has 355,882 students – the highest number in the country – with 403 schools. The highest numbers of 1AB schools (schools with highest number of students) are also in the Western province.
Colombo has four schools with a population of more than 5,000 students. The Western Province has more than 60 schools with a student population over 2,500.