'Life's Motifs'&'Devil's Palette'from Gunasiri
Kala Korner by Dee Cee
View(s):
Gunasiri Kolambage has been a prolific painter for over five decades. Ever since he graduated from the Institute of Fine Arts in 1959, he has proved his creative talent as a painter by winning a large number of awards both locally and abroad. He has participated at exhibitions in several countries and held solo exhibitions in Colombo.
This time his theme is 'Life's Motifs'. He has also completed his latest coffee table book titled 'Devil's Palette' which will be launched on Wednesday, February 12 at the exhibition opening at the J.D.A. Perera Gallery in Horton Place. The exhibition will continue until
February 16.
'Life's Motifs' is being sponsored by The Contemporary Arts & Crafts Association of Sri Lanka which was quite active sometime back but had taken a back seat in recent months. It is now reviving its programme of lending a hand to artists. "This exhibition will mark the restart of our activities," the Association's chairman, Harold Peiris says. "The artists still need support in the form of planning and organising exhibitions and we are prepared to help in this task."
Mr. Peiris takes pride in recollecting the days when talented sculptor Sarath Chandrajiwa was given a helping hand to start work on the busts of prominent personalities in the field of art and culture. A couple of exhibitions were organised and a book published on his work. Sarath has come a long way and today he is arguably the topmost sculptor in Sri Lanka.
Nearly half a dozen painters were able to exhibit their work thanks to the Association, among them were JagathWeerasinghe, Chandragupta Thenuwara, Karunasinghe Wijesiri and Kingsley Gunatilleka. Harold Peiris's intention of reviving his programme will be welcomed by all.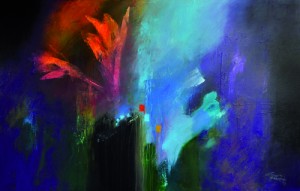 As for Gunasiri Kolambage, in addition to his paintings he was also well-known in the local advertising industry. In the 1960s he joined J Walter Thompson (Pvt) Ltd and made a name for himself as the agency's art director. By the time he joined Thompsons he had already won prizes at competitions and had his first solo exhibition in 1961 at the Studio Times. Five years later, Gunasiri held his second solo exhibition on the theme 'Some poems I have read'. In later years he concentrated on paintings based on Buddha's teachings. His exhibition in 1978 was titled 'SambuduSirita' and two years ago his exhibition on 'Buddharaja' was held at three venues – the Lionel Wendt Gallery, Gangaramaya Gallery and at the Jayawardenapura University. In between his paintings were exhibited in several Asian countries and in Spain.
Devoting his time to painting, he calls himself "a fulltime painter and studio painter".