Differently-abled heroes
By Tharooshie Mahahewage
Navajeevana Foundation publishes books featuring disabled protagonists
View(s):
It's not every day we read a book about a blind girl's amazing talent for singing or the heroics of a disabled child. The Navajeevana Foundation that works for the betterment of disabled children has published books that are bound to move readers to do their bit to help.
The three books are, "Flower Umbrella", "The lost pot of Curd" which were written by Hilda Amaraweera and "My Heart sings", which was written by Kala Keerthi Sybil Wettasinghe who illustrated all three books. The three books are published in Sinhala, English and Tamil.
Navajeevana founder and chairperson, Kumarini Wickramasuriya has been dedicated to the cause of providing a happy life and successful future to differently-abled children. The foundation currently has 36, 000 children under its wing at four schools located in Tangalle, Walasgala, Colombage-ara and Angunakolapelessa. The schools offer physiotherapy, occupational therapy, speech and language therapy and counselling and the manufacture and selling of prosthetics, orthotics, supportive seating and wheelchairs.
Their mission is to include people with disabilities as equal participating members of a non discriminating society. "Our organisation currently runs programmes for rehabilitation, special education, economic independence and awareness, but the most significant part of our goal is to create a community that will expect them wholeheartedly and treat them as equals with the ability and desire to contribute to society. We believe that children are vital to achieving this goal because they are open minded and more accepting differences."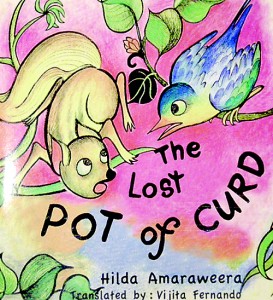 "Children with special needs should be given a chance in life and we need the children of our country to look upon their counterparts as just as able and deserving as they are. To this end, these stories have been written with differently-abled heroes and targeted at a preschool and primary level audience,' she says.
"I am delighted to be able to contribute to this worthy cause. Childhood is such a precious and innocent part of your life; it is easy to forget that it is not so easy for some. I am confident that these books will create awareness while bringing joy and hope to everyone who reads them,' said Sybil Wettasinghe.
A set of nine books is priced at Rs.900 and all proceeds will be directed towards printing costs and reprinting when required. Any contribution is welcome. For more information contact Rashmi Purasinghe on 0472240579 or 0472242718 or email rashmipurasinghe@yahoo.com