Royal's Pathirana extends lead at top of the table
35th Bata-the Sunday Times Most Popular Schoolboy Cricketer of the Year 2014
View(s):
Royal College allrounder Randev Pathirana gained a strong lead of 1102 over his immediate threat Akila Lakshan as the 35th Bata-the Sunday Times Most Popular Schoolboy Cricketer of the Year 2014 competition approached its fourth week.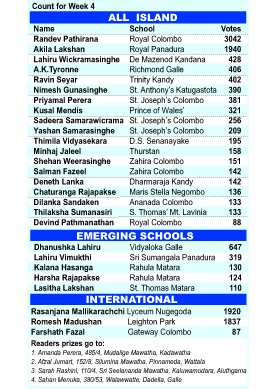 By the third week Pathirana toppled Lakshan — the initial leader of this year's All-Island contest — of Royal College Panadura and galloped further ahead of all other challengers. He received the most number of votes by any contestant so far, which is 1843, for the concluded week.
Lakshan received 847 votes for the week but this was not enough to counter Randev's progress. Lahiru Wickramasinghe of De Mazenod College Kandana made a giant leap, racing from 18th to third while A.K. Tyronne of Richmond College Gamme was pushed down a place to fourth. Ravin Sayer, the Trinity College spinner, remains in fifth position. The remaining slots from sixth position right to the bottom of the table are occupied by Nimesh Gunasinghe of St. Anthony's Katugastota, Priyamal Perera of St. Joseph, Kusal Mendis of Prince of Wales', Sadeera Samarawickrama and Yashan Samarasinghe of St. Joseph and Thimila Vidyasekara of D.S. Senanayake who all possess the ability to change the course of the contest as it progresses.
Danushka Lahiru of Vidyaloka Vidyalaya Galle took his tally to 647, adding a healthy count of 243 votes during the past week in the Emerging Schools category. He continues to lead this category for the fourth consecutive week as Lahiru Vimukthi of Sri Sumangala Panadura trails him in the number two slot by a difference of 328 votes. Kalana Hasanga of Rahula Matara pushed himself ahead to the third spot from fifth after earning just 22 votes from last week.
The most entertaining of the three categories, that for International Schools, continues to produce an interesting battle. Rasanjana Mallikarachchi of Lyceum Nugegoda regained his position as the leader from Romesh Madushan after a week. Last week Madushan of Leighton Park toppled Rasanjana to take the lead but this week the early leader forced his way back to the top after adding 1342 votes last week. Madushan too does not seem like he has relaxed but his previous week's collection of 901 votes proved to be too little for his campaign. The difference between Rasanjana and Madushan is a mere 83.
Coupons for the 35th Bata-the Sunday Times Most Popular Schoolboy Cricketer of the Year 2014 will appear on Wijeya Newspaper's dailies, the Daily Mirror and Lankadeepa and also its weekend English title, the Sunday Times. Readers will be able to send in as many coupons in favour of their favourite schoolboy cricketer until the end of May.