Donation of Haemodialysis machine
View(s):

Relatives and friends of the former General Manager of Railways, Daya C. Lelwala donated a haemodialysis machine to the Colombo North Teaching Hospital, Ragama, on February 5, to mark his first death anniversary.

The donation was accepted by the Director-General of Health Services, Dr. Palitha Mahipala and Colombo North Teaching Hospital Director Dr. Roy Perera.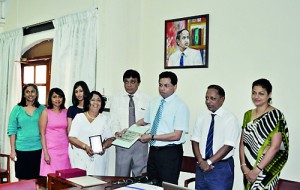 Mr Lelwala was suffering from Chronic Kidney Disease for seven years and was on haemodialysis for nearly two years, as he was not fit for renal transplantation. The family had to spend an enormous amount of money in his fight against the illness. After his death, his wife, Noeline, and daughters Pasanthi, Erandhi and Mihiri decided to donate a haemodialysis machine to a needy hospital and raised funds with the help of relatives and friends.
Presently there is no Dialysis Unit at the Colombo North Teaching Hospital and patients with acute kidney injury and those with life-threatening complications of chronic kidney disease are transferred to the National Hospital for emergency haemodialysis. With this donation, the Health Ministry has promised to provide a well-equipped Dialysis Unit to this hospital, according to a release issued by the hospital.
The Dean of the Ragama Medical Faculty, Prof. Nilanthi de Silva, Chair Professor of the Department of Medicine, Prof. Janaka de Silva and Senior Lecturer, Department of Medicine, Dr. Shamila de Silva were among those present.